Suitable Subfloors for Self Adhesive Vinyl Floor Tiles/Planks: Best Surface To Install Peel & Stick Vinyl Floor
Successful application of Peel and Stick Vinyl Floor Tiles requires an underlayment that is perfectly smooth and clean; grainy, wet, or dusty floors may not allow the self-adhesive vinyl tiles to stick properly. Depending on what conditions you have, the question of the suitable sub-floor surface for laying Self Adhesive Vinyl (PVC) Floor Tiles is particularly important.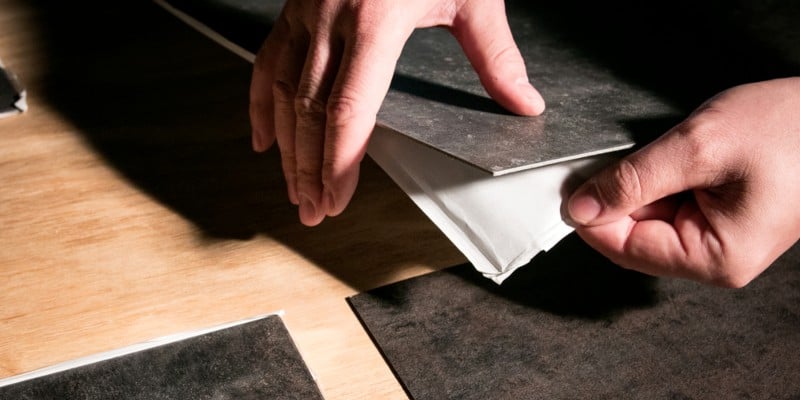 Prepare Suitable Subfloor For Laying Self Adhesive Vinyl Floor Planks & Tiles
Be aware that unlike preparing a sub-floor for ceramic, in the case of vinyl, there is no need to solidify the structure. Since it is a flexible covering, even if the sub-floor is not the most rigid, the covering will adapt to the structure since it is a flexible and malleable material. This does not mean that the sub-floor does not require any preparation, peel-and-stick vinyl tiles often come loose over time if the sub-floor is not solid and clean, although the bond can be suitably durable with a very good underlayment, so on the contrary, it is important to have a very smooth and clean surface to prevent the defects from coming out in the long term.
What Types of Subfloor Are Perfect for Vinyl Self Adhesive Floor Tiles?
Fortunately, self-adhesive vinyl tiles can be laid on the bare concrete floor and other floor coverings. One thing is particularly important: the subsurface must be smooth and clean: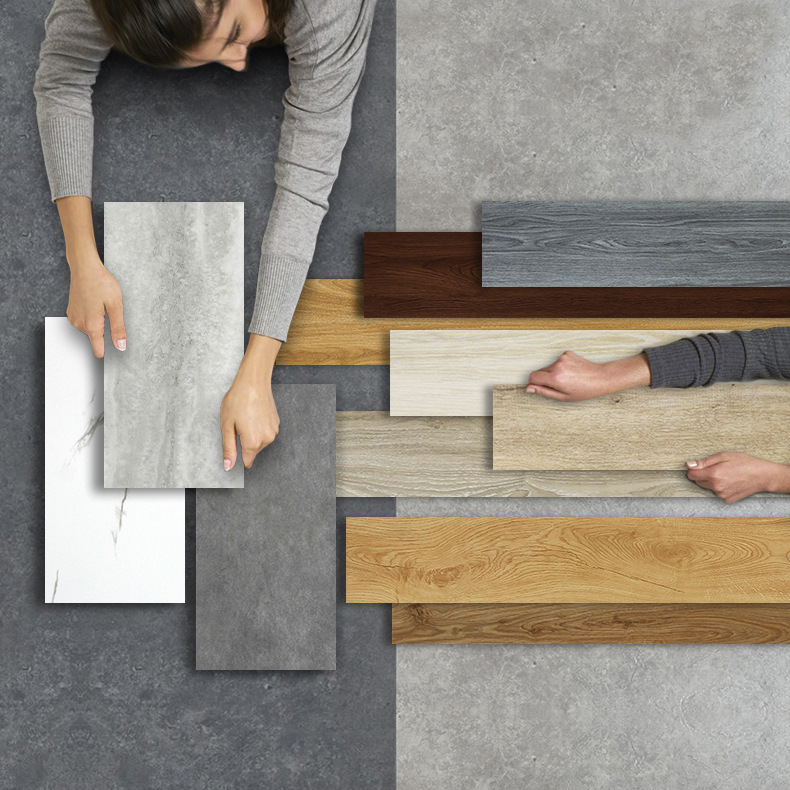 Concrete
If you want to install your peel & stick vinyl floor in the basement or on a concrete base, it is essential to make sure that your concrete has no humidity problems. Wet concrete on which vinyl flooring is laid will cause mold problems which can be very damaging. Be aware that there are now underlay membranes that can be installed directly on concrete. The membrane will have the role of controlling and stabilizing the humidity under the floor covering. In a way, it is a moisture barrier and resistant to mold. However, if you have any doubts about a possible humidity problem, ask professionals. This type of problem is not to be taken lightly and the damage can be very costly. Be aware, however, that on a painted concrete surface or one that has had epoxy, additional preparation is required. If so, you have two options;
Sand the cement and add a layer of preparative cement to make your surface smooth;

Install an underlay on which the glued vinyl will be laid.
As you can see, preparing the sub-floor for a vinyl floor is not complex.
Liquid Screed
Self-adhesive vinyl tiles can be laid perfectly on the screed and liquid screed. However, unevenness over 0.5 mm must be completely compensated. The floor is then completely sanded and vacuumed. This removes dirt and irregularities and the self-adhesive vinyl floor can be easily installed.
Wood Floor
If you want to lay the vinyl floor made of self-adhesive material on wooden floor, this is possible without any problems. However, this only applies if your wooden floor is completely free of joints. What's more, you'll probably have to sand the wood in order to level any uneven seams or rough areas. Otherwise, the fine cutouts on the surface will become visible and cloud the overall impression.
Plywood
Plywood can be an acceptable surface for self-adhesive vinyl tiles as it makes a smooth underlayment for peel-and-stick tiles. Many builders recommend covering the existing wood flooring and sheets with a one-quarter-inch plywood substrate (ensuring flat, even results) and then laying the peel and stick PVC tiles on top of the plywood.
Existing PVC Flooring
Self-adhesive vinyl can also be laid on existing PVC flooring. However, it must be ensured here that the PVC has been glued to the entire surface. The covering must not lie loosely on the surface, otherwise it can slip under the vinyl tiles. However, if the existing PVC floor has been glued, it can be laid on it without any problems. However, the floor should be cleaned thoroughly beforehand to avoid dirt deposits.
Existing Ceramic Floor
If you're installing vinyl plank flooring over an existing ceramic tile floor, check that the grout lines are no larger than 1/4 inch. If they are, the floor will need to be leveled using a patching compound. If the grout joints are flush with the face of the ceramic tile you can install the self-adhering vinyl tiles directly over the top of the existing tile installation. If there are loose, cracked, or broken areas of ceramic tile, use a hammer and chisel to remove these areas and fill with a concrete-based thinset mortar.
The Sub-floor Surfaces Not Suitable For Peel and Stick Vinyl Floor Tiles
If your floor is linoleum, a rubber floor, laminate or carpet, we, unfortunately, have bad news for you: these floors are not suitable as a base for the self-adhesive vinyl tiles and must be removed completely.
As mentioned earlier, preparing the sub-floor to receive a vinyl floor is not complicated. The main criterion is to have a healthy and clean surface, that is to say, a surface with the least amount of glue or adhesive residue and, as smooth as possible.
Regardless of the type of laying surface, if the surface contains crevices, be sure to make it smooth with a cement-based underlayment. This step will ensure that the screw head holes or cracks present will be invisible once the vinyl is installed.
When your subfloor surface is smooth you can proceed with the installation of your vinyl floor, whether it is self adhesive PVC floor tiles, roll vinyl floor, click vinyl or even deposited vinyl. If you choose a glued vinyl floor, the preparation remains the same.
About ACCESS FLOOR STORE?
AccessFloorStore is a B2B online yeloowpage Platform. we have earned resoueces about vinyl flooing local store and facroty, and other flooring prodcuts such as raised floor , SPC flooring, Carpet Tiles and Caramic tiles. If you are interested in other flooring products and want to find relevant resources, you can contact AccessFloorStore.