How To Prepare Wood Subfloor For Self Adhesive Vinyl Floor Tiles (Peel and Stick PVC Tiles)?
Peel and Stick Vinyl Floor Tiles (Self-Adhesive Vinyl Planks) is becoming increasingly popular as a material for flooring. Because of its properties, it is used in many areas. Of course, you can also lay self-stick vinyl planks on wooden floors. However, there are some important points to note. Here we will guide you to properly apply peel and stick vinyl floor tiles on plywood, teaching you how to prepare the floor to put down self-adhesive vinyl planks to wood subfloors.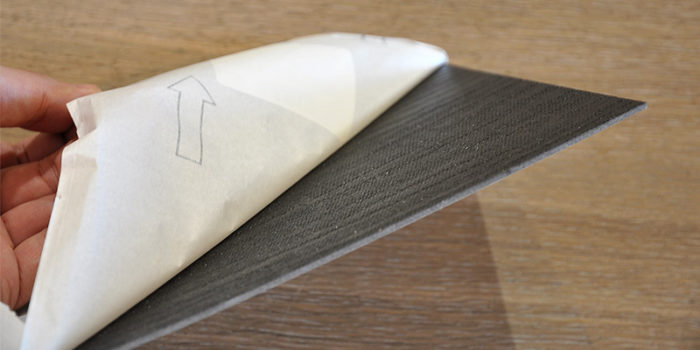 How To Fix & Lay Self Adhesive Vinyl Floor Tiles on Wood Subfloor?
Is wooden subfloor suitable for laying a self adhesive vinyl floor? Yes, in principle self adhesive vinyl flooring can be laid on wood floor. Then how to fix self-adhesive vinyl floor tiles on plywood? A few things must be taken into account:
First of all, it has to be checked whether the wooden floor is suitable for laying a new covering. If the floor is non-positively glued, vinyl floor can be laid directly on it. If the floor is NOT glued (often with older floors), a film MUST be laid between the two floors.

It is also particularly important to clarify whether the wooden floor is flat or has dents and bulges. And it must be dry and clean.

The wood subfloor should not have any damp or dark spots. All moisture problems must be eliminated before laying. With vinyl planks and PVC tiles that are thinner than 5 mm, it is also extremely important that the wall clearances are observed and no heavy elements such as e.g. Kitchen combinations can be mounted on it. When laying vinyl on wood floors, we recommend an expansion joint of 8-10 mm due to the movement of the sub-floor.
Install Self Adhesive Vinyl Floor On Old Wood Floor
Generally, wood and vinyl have opposite stretching behavior, i.e. when the temperature rises, the wood shrinks, but vinyl expands. If these two floor surfaces lie directly on top of each other, the vinyl comes under pressure and / or tension, which can lead to waves or joint openings. If it is ensured that the surface is level, you should ensure that the old wooden floor and the new vinyl flooring are decoupled from each other. A decoupling film between wood and vinyl is definitely necessary here.
How To Apply Isolation Layer For Laying Self Adhesive Vinyl Floor Tiles On Wood Floor?
There are basically two methods for this decoupling:
1. You can use a commercially available 0.2 mm thick polyethylene film or vapor barrier (the inexpensive version)

2. Impact sound insulation (db-cover underlay mats made of latex), which is also recommended for wooden floors as a subsurface for reasons of acoustics. Many manufacturers even strongly recommend the use of impact sound insulation. You should definitely follow this recommendation, also for reasons of later warranty.
Install Peel and Stick Vinyl Floor Tiles On Plywood
However, if the wood subfloor is a non-positively glued plywood floor, peel and stick vinyl can be placed directly on this floor, without a protective film or insulating underlay. What's more, installing plywood underlayment in the vinyl areas supplies the elevation, smoothness, and levelness necessary for the proper installation of vinyl floors.
How To Prepare Plywood Subfloor For Installing Self-Adhesive Vinyl Floor Planks?
Plywood is a common underlayment, with better structural strength and water resistance than particleboard. Plywood used as an underlayment for peel and stick vinyl flooring should have a sanded, smooth surface on the topside. Avoid using materials with distinct raised grain patterns and voids, which can affect the finish adhesion of the self-adhesive vinyl.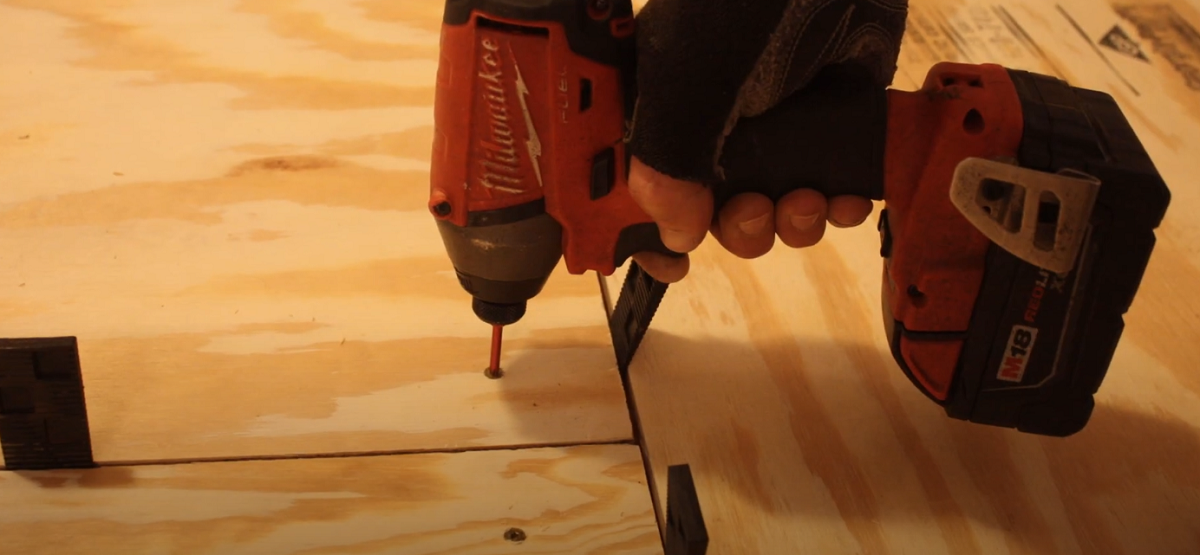 How To Install Plywood For Peel and Stick Vinyl Floor?
To prepare the right plywood for peel and stick PVC floor, follow the below steps to install the plywood:
1. Cleaning the subfloor before installing plywood underlayment. Debris left on the subfloor can cause problems with the underlayment down the road, such as the void which could allow noticeable movement, floor squeaks or cause fasteners to poke through.

2. Measure and cut 1/4-inch or thicker plywood with a circular saw to fit the entire floor of the room where you are installing vinyl flooring. The goal is to have a wooden subfloor consisting of two layers at least 1-inch thick.

3. Arrange the plywood on the floor so the joints of this layer do not align with the subfloor joints below. Allow 1/4-inch gap along the walls and between the joints for expansion. Secure the plywood to the subfloor at 6-inch intervals with 1-inch deck screws placed along the edges. Set all screw heads slightly below the surface.

4. Apply floor patching compound to the joints and over the screw heads. Smooth it in place and allow it to dry. Sand any rough edges with medium-grit sandpaper.

5. Clean the floor with a wet-dry vacuum to remove any dust or debris that remains.
How To Seal & Smoothen Plywood Floor Before Self Adhesive Vinyl?
As you know, the installation surface of self-adhesive vinyl must be smooth and flat, otherwise it will seriously affect its normal use. Therefore, before installing self stick vinyl flooring on paywood, we need to ensure that the subfloor is smooth and seamless. Therefore, we need to take the following measures to fix self adhesive vinyl floor tiles on plywood:
1. Walk under the plywood floor and record any loose or squeaky areas. Look for any structural damage and repair it.

2. The squeaking is caused by plywood rubbing loose nails, so 1¼ inch precision machine hammer into the loose or squeaking area will ensure that the floor is firmly and quietly fixed.

3. If any edges between the plywood are not flat, add one or two screws and pull down the higher board to the plane next to it.

4. Use a mixed wood leveling agent to flat the uneven area and seal the seams between the plywood floors. Follow the product instructions to use a paddle mixer to mix the wood leveler and water in the bucket.

5. Use a gypsum board or putty knife to lay a thin layer of leveling glue on the joint between plywood. To prevent moisture from leaking and corroding the wood, make sure that the mixture completely covers the joint.

6. After the leveling glue has dried for at least 30 minutes, polish the sealed joints with a sanding tool and 100-mesh sandpaper to smooth the mixture and make it level with the rest of the floor.

7. Polish any rough surfaces and edges with rough sandpaper, and vacuum the entire floor with a dry/wet vacuum to remove sanded dust and collected dust and dirt.
Whether it is an old wooden floor or new plywood, after completing the above preparations, you can refer to our self-adhesive vinyl floor installation guide to easily complete the laying. If you are looking for a reliable self-adhesive vinyl floor supplier, welcome to send your inquiry to us. Huiya will offer you the high quality and affordable peel and stick vinyl floor and other industrial vinyl floorings for your projects!
About ACCESS FLOOR STORE?
AccessFloorStore is a B2B online yeloowpage Platform. we have earned resoueces about vinyl flooing local store and facroty, and other flooring prodcuts such as raised floor , SPC flooring, Carpet Tiles and Caramic tiles. If you are interested in other flooring products and want to find relevant resources, you can contact AccessFloorStore.