How To Make GRC (Glassfibre Reinforced Concrete) Floor Panels | Huiya Office Raised Floor System
With its stupendous advantages, Huiya GRC (Glassfibre Reinforced Concrete) Floor Panels have been applied into numerous commercial offices and hotels. How to make GRC Floor Panels? In this article, we will present the whole manufacturing process of our Glassfibre Reinforced Concrete Raised Floor Panels, attaching a video about on-site GRC floor making process.
Huiya GRC Floor Panels - Glassfibre Reinforced Concrete Floor
As the name suggests, GRC Floor is a kind of concrete floor panel made of Glassfibre Reinforced Concrete. G.R.C. (Glass fiber Reinforced Concrete) is a cement-rich micro-concrete cementitious material to which AR fiberglass (on the order of 5% evenly distributed in the handle and resistant to alkali cement) is simultaneously incorporated by spraying. Micro concrete gives it its physical qualities such as its ease of being molded and the fibers its pseudo-ductile mechanical behavior. It can thus be used in thinner thicknesses creating lighter products.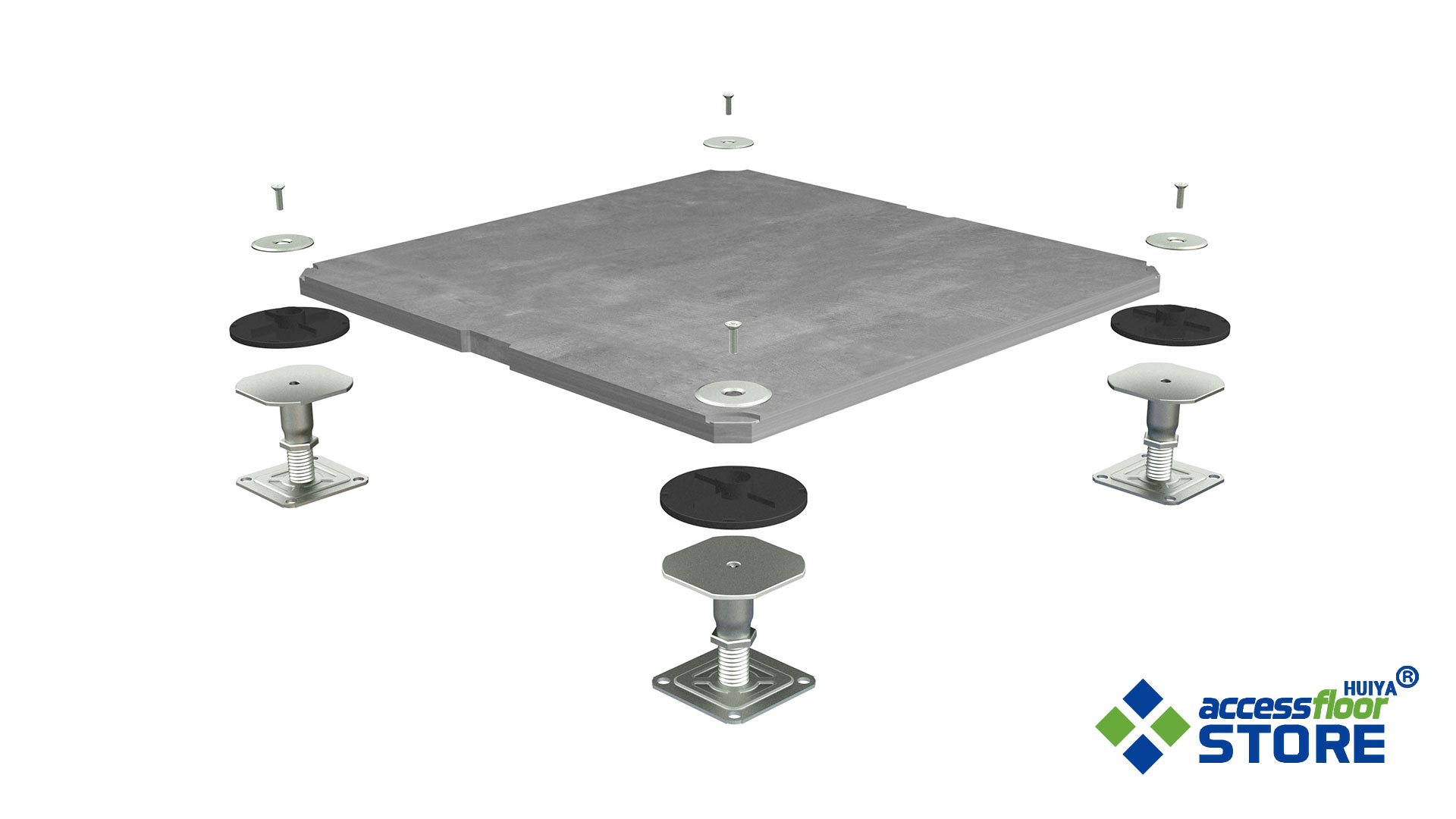 GRC Floor forms a complete bond with concrete sub and other floors, is the ideal material from which to manufacture raised floor panels. Huiya GRC floor uses high quality cement and gypsum powder as main raw materials, combined with reinforcing fiber, not only keep the raw material itself superior resistance to fire, heat and various weather extremes, more raise the loading capacity of products. So Huiya GRC Floor comes with a lots of advantages, such as:
Strong endurance, great bearing for high traffic areas

Lightweight reduces the gravity to the raised floor system, making it more durable

High resistance to the elements and the various weather extremes

Impervious to water and resistant to moisture

Non-flammability and non-conductivity of electric

Non-susceptible to insect infestation or growth of fungi and microbes

Both easy and trouble-free to install
How is Glassfiber Reinforced Concrete Raised Floor Panel Made?
In this video, Huiya (AccessFloorStore.Com) shows you the whole producing process of making Glassfibre Reinforced Concrete floor panels, which are widely used for OA raised floor systems in business office buildings, hotels and other commercial spaces.
1. Put steel net on the GRC floor module

2. Mixed cement firber (high quality cement and gypsum powder, with reinforcing fiber) fall into mould

3. Two molds work together and give pressure to form the glassfibre reinforced concrete mixture into panel

4. Waiting some time till the panel is formed to GRC floor size: 500x500x26mm

5. Formed GRC Floor come out and drop to the glass tray

6. Connect the GRC floor panel on an appointed pallet

7. Leave the panels on the appointed pallets at least 24 hours to increase cement strength

8. Polish the GRC floor with two polishing machines

9. Connect two GRC Floors and go to package (50pcs GRC Raised Floor/Wood Pallet)
Welcome to check more information about Huiya GRC Raised Floor Panels here, and if you have more questions and want to get an instant quote about our Raised Floor Systems, feel free to call and mail us!