What Is SPC Flooring? Check Out Its Structure, Advantages & Applications
SPC floor as a type of vinyl flooring has been an ideal choice for commercial and high traffic environments with its practically indestructible structure. SPC flooring faithfully reproduces wood, marble, and any other material without having to give up that extra touch of design. But what is the SPC floor exactly, what are the advantages of its installation, and why prefer it to another? AccessFloorStore.Com guides you to know everything about the SPC Floor!
What Is SPC Flooring?
SPC stands for Stone Polymer Composite, having limestone support combined with PVC powder and stabilizers, has compactness much higher than a flexible LVT floor. The SPC floor is also a very safe type of floor, because it does not use solvents or harmful adhesives, nor other substances that could release harmful volatile compounds into the air VOC. Formaldehyde content is far below the legal standard.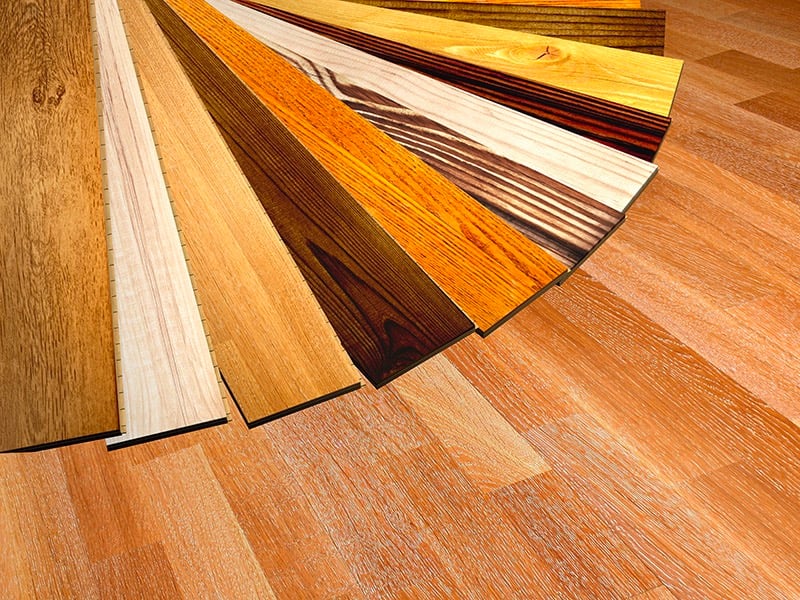 It means that you can install this floor for any level of domestic to commercial to industrial traffic by choosing between the surface layer of 0.33 or 0.55 depending on the intensity of the passage. It can also be installed on any subfloor, even old floors with escapes up to 5mm., possibly hard and planar surfaces but the mattress 1.5mm thick. and specific for these floors is able to regularize the possible shortcomings of the subfloor. There are also SPC floors pre-mated to the mattress that also guarantee high sound insulation levels.
What Is SPC Flooring Made Of?
SPC is generally composed of 4 layers (May vary depending on the manufacturer):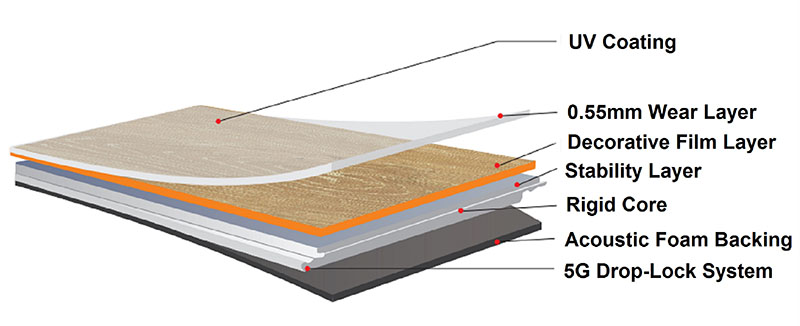 Support layer: this is the backbone of your board.

SPC Core: The SPC flooring contains a solid and waterproof core. It does not ripple, does not swell, or peels, regardless of the liquid to which you submit it. This nucleus is ultra-dense without the use of foaming agents. The core is made from a compound of mineral and vinyl powders. It gives you a little less resilience under your feet, but it makes the floor a superhero as durability.

Printed vinyl layer: this is where you get your gorgeous photographic images that make vinyl (almost) identical to natural materials like stone and wood.

Wear layer: present just like with traditional vinyl, the wear layer is as if it were the bodyguard; helps protect the floor from dents, scratches, etc. The thicker the wear layer, the greater the protection. SPC flooring can have two thicknesses of a wear layer of 0.33 or 0.5. The latter is known to have a robustness that offers greater protection.
What Is The Thickness of SPC Flooring?
With the rigid core, the thickness of the vinyl floor will no longer matter. Everything you read on vinyl floors where it was said "more often = better" will no longer be so. With the SPC Floor, the manufacturers have created an ultra-thin and super resistant floor. Luxury vinyl tiles with rigid core are specially produced to be ultra-thin and light, they usually do not measure more than 6 mm thick.
What Are The Advantages of SPC Floor?
100% waterproof: for those with pets and areas subject to water and humidity. Whether they are dirty shoes or spilling liquids on the floor all this will no longer be a problem.

Great for imperfect subfloor: magnificent floor for uneven substrates, since the durable hardcore is specially designed for this type of situation, designed to be installed on any existing hard surface, including tiles.

Ultra-durable: The SPC vinyl floor is the most durable and durable vinyl floor option on the market.

Realistic aspects of wood and stone: technological evolution is making vinyl floors almost identical to the originals, wood imperfections, knots, or the characteristics of any stone you want to copy are also reproduced.

Zero maintenance: The surface of SPC vinyl floors does not absorb stains and is very easy to clean. For this reason, it is also perfect in places such as bars and restaurants. All you need to clean it will be the vacuum cleaner and a damp cloth.

Goodbye to phthalates: 100% phthalate-free, the chemical compounds commonly used for the production of vinyl floors; A+ Certification.

No expansion/contraction: a big concern for traditional wood, laminate, or LVT Floating floors is the expansion and contraction that cause the floor to move or deform. The rigid core does not expand or contract, even in the presence of moisture.

Easy and DIY installation: SPC vinyl floors are floating and come with a click interlocking system, so it will be easy to install them above both the raw and existing surface.

Sound absorbent: the SPC core helps to absorb sound, if this floor is then combined with a sound-absorbing mattress, excellent soundproofing results are achieved.

Extra warmth: The rigid core is known to provide extra warmth, especially compared to cold ceramic tiles.
Where Should You Use SPC Flooring?
Commercial and high traffic areas: in particular, kitchens and commercial bathrooms that have a lot of traffic and need a waterproof floor. It is also widely used in grocery stores and other environments where spills of liquids occur frequently.

Kitchens: Waterproofness and ease of cleaning make this floor great for use in the kitchen.

Bathrooms: Thanks to its waterproofing capabilities, the SPC luxury vinyl floor is a great option to provide your bathroom with a gorgeous realistic look of wood or stone.

Basements: Basements are prone to flooding and water damage, so waterproof hard flooring is a great option. Also, you don't typically spend much time standing in a basement, so less resilience is not a big drawback.
Who Should Choose SPC Vinyl Floors?
Very busy companies: SPC vinyl floors are designed with the home in thought as businesses and commercial spaces. It is the most durable waterproof vinyl flooring option on the market. Its appearance will give your business a modern and elegant look.

Pet owners: We know that pets can completely destroy a floor between accidents and rides, but the rigid core is built to handle it and make it more durable.

Homeowners with imperfect undercuts: one of the biggest strengths for floors with rigid SPC core is that you can install them on irregular subtables. Save money and leave the leveling company using hardcore floors.

DIY: You most likely won't need to delete the existing background. It is enough to connect the boards to each other and lay them on the floor to be replaced (floating laying).