Office Flooring Selection Guide: Color, Material, Design, Types & Features
When you think of office floors, you might imagine carpet tiles in safe colors such as gray and light blue. Nowadays, as with furniture selection, it is recognized as an important factor that determines the image, and a wide variety of flooring materials are being adopted in offices. This time, for companies that are considering floor materials and designs due to office relocation, renovation, layout changes, floor types and selection methods, precautions when re-covering, what kind of things are actually we will explain examples such as whether the floor is adopted.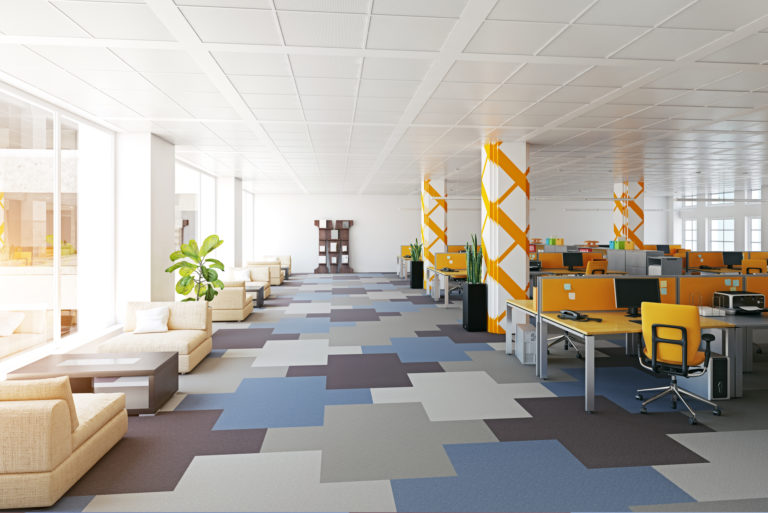 1. What is the role that office floors bring?
In selecting an office floor, we will explain in detail the basic "color", "material", and "design".
Color of the floor
There are many floor materials, but let's start by choosing a color. Color affects human psychology, so it is easy to understand if you imagine and select a work scene in the office.
【Red】It stimulates attention. Because it brings emotional excitement and stimulation, the color of the red system seems to be good as a color for meeting spaces used for brainstorming, etc.

【Yellow】It can be expected to have an effect that brings brightness and hope. It is said that concentration will improve, so it is suitable for communication areas and meeting corners.

【Green】Brings emotional stability and a sense of security. It relieves body tension and encourages relaxation, so it is also suitable for refreshing corners, and many companies use it for entrances with many visitors.

【Blue】Since it can be expected to calm down and calm down, it is often used as the base color of the office area.

【Black】There is a sense of quality, a feeling of strength. Because it is also a color that symbolizes the power to intimidate the other party, it is often used for the reception to advance business negotiations advantageously and boardrooms.
In addition, there is a method of dividing the color as a classification such as cold color, warm color, earth color, etc.
【Cold color】Blue, blue-green, blue-purple, etc. become cold colors, giving the impression that there is a sense of calm cleanliness.

【Warm color】Red, yellow, orange, etc. become warm colors and give an active and active impression, so you can use them as an accent color.

【Earth color】 Earth color is a "natural color on the earth". It is a color created by nature that changes with the seasons, such as the earth, the sky, the sea, and trees. Because it has a refreshing effect, you can consider such as a resting space where you want to calm down.
Floor material
Once the color is decided, the next time you select the material. If you choose a natural color, the material may be determined by the color, such as becoming a natural material. In addition, it affects the reflection of light, the echo of sound, ease of walking, ease of cleaning, etc., so consideration should be given to how the space is used. For example, in an office where you do not want to make sound, you can use tiles carpets, and corridors with frequent passages use materials such as easy-to-walk flooring and floor tiles.
Floor design
If it is decided on a color and a material, let's consider the design next. For example, you can change the impression of each area in the office by changing the color and material of the floor, changing the color and pattern even if the material is the same, with the design in mind for each area. (Zoning in the floor design will be described later)
2. Types and Features of flooring often used in offices
Carpeting was common in offices a long time ago, but in recent years, there have been more and more cases of using flooring that combines design due to changes in work styles and corporate branding. Let's take a closer look at the flooring used for the office and the appropriate area.
Carpet tile
First of all, the standard flooring of the office is still carpet tile. Among carpet tiles, here, select the office where the backside is made of PVC material, etc. A dedicated bond can be used on the backside to stretch directly on the OA floor, mortar floor, etc., and can be easily peeled off. For home use, the specifications are different because the backside is felt material, but the common feature is that it has electrostatic and antifouling functions and is highly durable. Squares of 40 to 50 cm are common in size, and there are advantages such as being able to peel off partially and work such as wiring changes on the OA floor. If it gets dirty, there is an advantage that only that part can be replaced, but if it changes over time, it will remain strange from other parts, so be careful.
It is used for the office area in general, but it is a good idea to use different colors and products with high design at the entrance that are conscious of the corporate brand.
Natural material type (flooring material, marble, etc.)
Wood-based flooring materials have a sense of quality and feel the warmth of wood. Therefore, there are many applications to use plywood wood flooring materials for refresh areas. Not only that, but it is no longer uncommon to use flooring materials for ordinary office spaces in the living offices, which are also a trend. It is not suitable for offices with wiring functions and is often used in areas where layout changes are less affected. The quality of PVC tiles' fake materials has also improved, so there are more and more cases where they are used.
In addition, there is marble a natural material, and it is characterized by a sense of quality and luster. Because of its pattern and luster, it is a material that is often used at the entrance with the advantage that small garbage and dust are inconspicuous, but the cost is high.
Vinyl flooring type (floor tiles, floor sheets, etc.)
There are two types of vinyl flooring types made of polyvinyl chloride: tile type "floor tile" and roll type "floor sheet (long sheet)". Floor tiles are often used in offices with wiring functions. It is often used in places with a lot of walking, has high durability, and cushioning, and has excellent functionality such as drug resistance and antistatic, so it is often used in offices. It is the same material and may be called a cushioned floor for home use, and although it is inexpensive, durability is based on general home use, so be careful when using it in the office.
If wood grain flooring-like floor tiles are used as flooring materials, the texture is inferior to natural materials, but the living taste can be realized at a low cost. Floor tiles are easier to adopt because there are also products with good maintainability that do not require waxing.
Rug Mat
Speaking of rugs, it is an image used at home, but recently it has been adopted as an easy way to design office space. By laying rugs in offices that tend to have an inorganic impression, you can finish it in a colorful and gentle space. Please note that there are more pedestrians than at home, and there is a risk of stumbling on something too thick.