Tufted Carpet vs Woven Carpet: Differences & Which One To Choose For Your Room
Have you ever wondered what tufted or woven means in a carpet? Or what a needlefelt construction is? Learn all the information and differences about each carpet construction here.
Among the many decisions that are made when choosing carpet, color and design are actually the items that are decided upon last. In fact, the important question of which type of carpet is best for your project must be decided first: Tufted or woven carpet. Aspects such as delivery time, cost, quality, durability, and last but not least design options will be influenced by this choice.
Tufted or woven, or needlefelt construction? Furthermore, there is also the question of whether you should choose sheet or carpet tiles.
A little knowledge about carpet construction can help you to make the right decisions in the selection phase, the purchase phase, and last but not least in the installation of the carpet.
Installation is a crucial point if you are to decide between tufted or woven carpets. When using woven carpet, there is more waste, the cost is higher and the installation is more demanding. In return, the versatility in terms of design and the stunning, seamless finish is simply unbeatable. For more details on the differences between carpet tiles and sheet goods, check out the article below.
Tufted Carpet, Woven Carpet, Needle Felt Carpet?
What is Tufted Carpet?
About 95% of all commercial carpets on the market are tufted. This is mainly due to the quick production, lower cost, and high flexibility in design with this form of construction.
Tufted carpet also offers a wide range of patterns, using yarns that are already dyed or can be dyed later, different loop heights, and velour or loops.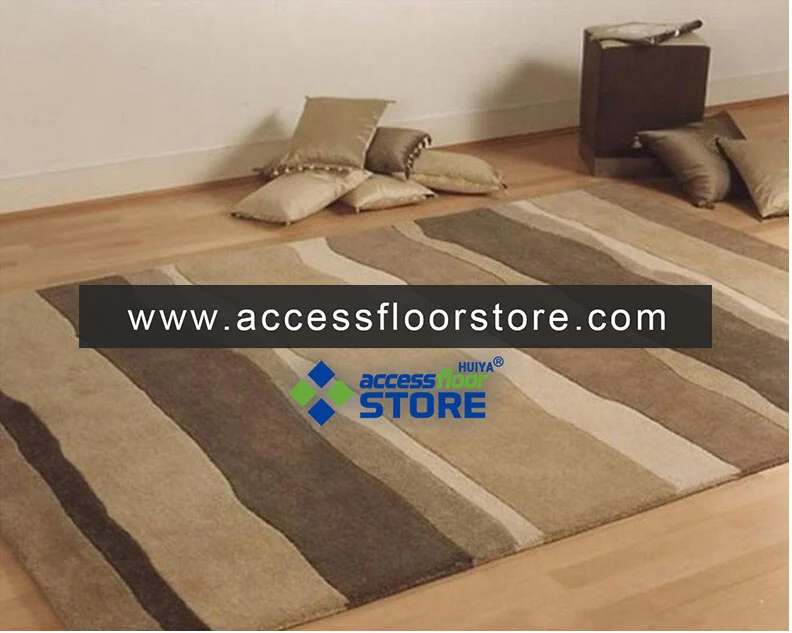 If you are to decide between tufted or woven, installation is a crucial consideration. A woven carpet is basically joined at the sides, while a tufted carpet can easily be joined at both the sides and the ends. Therefore, when installing a tufted carpet, less material is needed, installation is faster, requires less expertise, and installation mistakes are less likely to occur.
Carpet that is tufted will provide excellent results in most cases. Nevertheless, it should be noted that the generally better quality and durability of a woven carpet may be preferable depending on the use, usage, and location of the carpet.
What is Woven Carpet?
Until the 1950s, the woven carpet was the preferred production method for carpet manufacturing. An advancement in machinery and the introduction of synthetic materials ushered in the era of tufted carpets.
Today, most carpet manufacturers continue to offer woven carpets because of their superior quality and durability. This is especially true of carpets woven from natural materials such as 100% wool or wool blends. The quality and purity of the wool are important factors that affect the long-term appearance and longevity of the carpet.
The exclusive appearance of woven carpet makes it ideal for high-end projects that require a luxurious look and feel.
What is Needlefelt Carpet?
Needle-felt carpet is exceptionally color fast, dries quickly, and is very resistant to sun and fading. One disadvantage of needle-felt carpet is that it does not offer very many options in terms of design and handling. Needle-felt carpet is not recommended for general use. However, it is an excellent choice for areas where moisture can be a problem, such as pool decks, locker rooms, and patios. Needle-felt carpet is commonly used for entryway mats and is available in sheet and carpet tile.
Carpet Sheets or Carpet Tiles
Carpet Sheets
Carpeting by the sheet or by the meter is manufactured in long, wide rolls. Therefore, for projects with high design ambitions or for expansive areas, sheet carpet can be more than beneficial. However, there is more waste associated with its use, the cost is higher, and installation is more challenging. In return, the versatility in terms of design and the stunning, seamless finish is simply unbeatable.
Carpet Tiles
Carpet tiles are small squares of carpet that can be installed in a variety of ways. The square shape is the most common, but carpet tiles are also available in other shapes such as planks or hexagons. The standard shapes in carpet tiles are faster and easier to install than sheet flooring, and there is much less waste, saving both time and money.
Carpet Sheets or Carpet Tiles? Which One To Select?
Sheet goods are required if you want a large-scale pattern or to create a truly luxurious effect. Solid color standard sheet goods and carpet tiles are great for most other applications and offer a good, cost-effective alternative when budgets are limited. Carpet tiles are also ideal if you have a limited amount of time on the project, or regular maintenance and replacement is an issue - or if you simply don't need the high design factor that sheet goods offer.
For a more in-depth comparison of the pros and cons of sheet goods and carpet tiles, feel free to stop by here.