Underfloor Air Distribution System Guide - Advantages, Applications, Work Principle & What is Underfloor Cooling System
Underfloor Air Distribution System is more and more widely used in modern access flooring systems for cooling the device temperature and improve the building air condition. Why apply the UFAD system in raised access floor and where is ideal to use it? Here Accessfloorstore.com introduces the Underfloor Cooling System with its work principle, features and advantages, applications and more.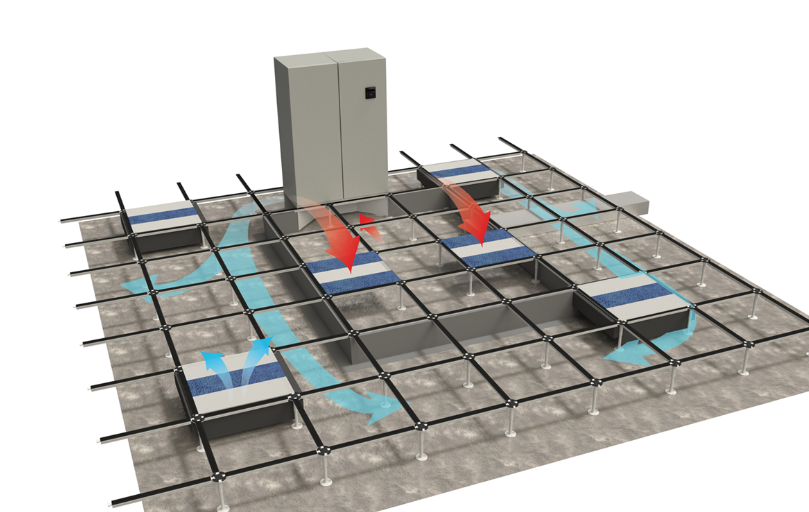 Underfloor Cooling System - Underfloor Air Distribution Guide & Performance
What is Underfloor Cooling System or UFAD?
The Underfloor Cooling System is a solution through which the raised access floor structure absorbs heat to reduce room temperature, the cooling effect can be provided by underfloor heating system, cold water in the pipes sunk into the screed, or underfloor air distribution. Access floor Underfloor air distribution system (UFAD), as the name suggests, is an air distribution strategy to provide ventilation and space conditioning for flooring system, instead of traditional overhead system, used in the structural concrete raised floor panel and a raised floor system to supply conditioned air.
How does Underfloor Air Distribution System Work?
The application principle of the UFAD system is to use underfloor pressure ventilation systems formed by installing elevated floors, rely on the filtering capabilities of access floor temperature control units and air handling units to adjust the air to appropriate supply conditions and transport it to occupied areas. The most common UFAD configuration includes a central air handling unit that delivers air through a pressurized booster chamber and enters the space through a floor diffuser. Other methods can be combined with fan-powered terminal units at exits, under-floor pipes, desktop vents or connections with personal environmental control systems.
Underfloor Air Distribution (UFAD) System Advantages
With the development of technology and science. The disadvantages of Underfloor Air Distribution have been solved much. Actually, UFAD system is applicable in more places and brings a decent solution for underfloor cooling system with lots of benefits, from the reduction of materials to lower the cost of installation and energy, more importantly, you can get faster speed on construction and shorten the completion time.
Flexibility for building services

UFAD systems have no noise

Reduce energy use

Improve the indoor air quality

Lower life-cycle cost

More comfortable and healthy environment

Unlimited design freedom

Reduce security risks
Underfloor Air Distribution System Applications and Precautions
UFAD system suits for a variety of different application areas, these places have large cooling loads from electronic equipment and requirements for routing power and data cables. Especially the height-adjustable open plan office buildings that need to install raised floors allow cable management. One of the most famous application cases in the world of the floor UFAD system is the New York Times Building. Below is the list of some common applications of UFAD system.
Office

Command centers

IT data centers

Server rooms

Commercials

Schools

Museums

Airports

Churches

Libraries
UFAD systems are not recommended in some specific facilities or spaces, such as small non-residential buildings, wet spaces like restrooms and pool areas, kitchens and dining areas and gymnasiums, because UFAD may result in especially difficult or costly in design. Accessfloorstore.com provides high-quality access floor temperature control units for a cooling system, you can find the most complete flooring kit here to finish your access floor installation fastly and efficiently.