News Tag
Products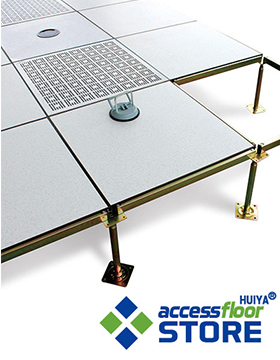 4 Kinds of Tate Access Floor Pedestals-ACCESS FLOOR STORE
2019/9/2 22:14:40
Tate inc provides understructure options for bolted stringer, free standing and PosiLock / Cornerlock. What is the differences of these Four understructure systems?
Bolted Stringer Understructure System
Bolted stringer is generally used in server rooms and data centers. Tate's Bolted Stringer System provides lateral resistance to heavy rolling loads & seismic loading
The Posilock Understructure System
Tate's Posilock understructure system is also called corner lock systems. One piece of Tate access floor panel have four cornor lock pedestals. Access floor is only with posilock pedestals without the need for stringers. PosiLock design provides self-engagement and positioning of floor panels. Pedestal nut provides anti-vibration and locking features.
Seismic Access Floor Understructure System
Seismic force-resistant pedestals need a special bracing. each pedestal add one bracing to become a seismic access floor pedestal. Tate access Floor pedestal heights is 6"-16" and Low finished floor pedestal heights (LFFH) available from 2.5"-4".
Freestanding Understructure System
Tate's Freestanding System is designed for the STONEWORKS™ Eased Edge panel. Stringer-less system with panel installed directly to pedestal head. Clip on gasket for tate access floor pedestal head with ribs for panel positioning