News Tag
Products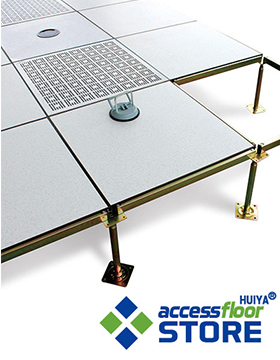 Raised Floor Loading Capacity & Weight Rating | How Much Weight Can A Raised Access Floor Support?
2019/9/17 19:27:08
How much weight can a raised floor hold? How to calculate raised access flooring system loading capacity? How much weight capacity required for different applications of raised access floor? Regard to the weight capacity and load rating of the raised floor, AccessFloorStore.Com will give you the most detailed and in-depth explanation with years of access floor manufacturing experience.
Raised Floor System Weight Load Capacity Explained
As you known, with the vary benefits of Raised Flooring Systems, such as allow services (cables, wires ) to be hidden in a void created in the floor and enable easy access both when installing and maintaining the services, we can find access floors are widely used in in special working environments with high load requirements, for example computer room, data center, modern office, library, etc.. While these workplaces are generally with heavy, bulky equipment exhibited inside, the total weight of it all can be staggering, Safety factor including weight capacity is a measurement with which your raised floor system was designed to support loads without collapsing.
What is the Weight Loading Capacity of Raised Access Flooring System?
Simply to say, weight capacity is just that - how much weight the raised floor system will hold, also refer to load-bearing capacity. Load capacity refers to the maximum demand, stress, or load that may be placed on a given Raised Floor System under normal or otherwise specified conditions for an extended period of time. In other words, it refers to the capacity of an access floor system to continue to perform its intended function when supporting a specific amount of weight. In short, in a raised flooring system, load capacity usually pertains specifically to the maximum demand, stress, or load that can safely be placed upon a raised access floors without causing it to fail.
How Much Weight Can a Raised Access Floor Hold?
The weight load capacity range for standard raised access flooring is from 1,000 to 2,000 pounds.
While for different applications, different Floor Loading Capacity is required. For example: to maximize floor space, the cabinets that most data centers use can handle 2,500-3,000 pounds of hardware, and the raised floor for data center has to be sturdy enough to hold that weight; while light traffic areas are built with the typical 1,000 to 1,500 pound panels. For seismically active regions, further support may be required–usually, additional pedestals, stringers, and floor panels.
How to calculate Raised Floor Loading Capacity?
Ratings of Loading to consider when you are planning to build a raised access flooring system:
Concentrated Load - To determine the maximum deflection(s) and permanent set(s) of an access floor under load.
Ultimate Load - To determine the maximum deflection(s) and permanent set(s) of an access floor under load.
Rolling Load - To determine the durability and/or deformation of an access floor system when exposed to commercially anticipated caster traffic using a specific load.
And more . . .
HuiYa Raised Floor Loading Capacity
To determine these load ratings of the raised floor, the best way is to pass the CISCA - Recommended Test Procedures for Access Floors, which including the most comprehensive testing system of raised floor loading. Huiya Raised Floor is manufactured strictly in accordance with American CISCA "Recommended test procedures for access floors", and you can check out the confirmed loading capacity of our raised floor systems in different materials on the below tables:
Steel Bare Raised Floor Loading Capacity
System Performance Criteria (Tested on Actual Understructure)

System Type

SYSTEM WEIGHT

STATIC LOADS

ROLLING LOADS

IMPACT LOADS

Panel

Understructure

Design Loads

Ultimate Loads

Safety Factor

10 Passes

10,000 Passes




Steel Bare Floor(SBF1000)

Conrner lock

7.8 lbs/ft2 (38kg/m2)

1000lbs (454kg)

Min. 2000lbs (Min. 908kg)

Min. 2

800lbs (363kg)

600lbs (272kg)

150lbs (68kg)

Bolted Stringer

8.2lbs/ft2 (40kg/m2)

1000lbs (454kg)

Min. 2000lbs (Min. 908kg)

Min. 2

800lbs (363kg)

600lbs (272kg)

150 lbs (68kg)
Aluminum Raised Floor Loading Capacity
System Performance Criteria (Tested on Actual Understructure)
System Type

SYSTEM WEIGHT
STATIC LOAD
ROLLING LOAD
IMPACT LOAD
Panel

Understructure
Design Load
Ultimate Load
Safety Factor
10 Passes
10,000 Passes
Aluminum Floor (AF1000)
Bolted Stringer
12.3bs/ft2 (60kg/m2)

1250 lbs (570kg)

Min. 2000 lbs (908kg)

Min. 2

1000 lbs (454kg)

1000 lbs (454kg)

150 lbs (68kg)
Bare Raised Floor Loading Capacity
System Performance Criteria (Tested on Actual Understructure)
System Type
SYSTEM WEIGHT
STATIC LOADS
ROLLING LOADS
IMPACT LOADS
Panel
Understructure
Design Loads
Ultimate Loads
Safety Factor
10 Passes
10,000 Passes


Bare Floor (BF1000)
Conrner lock
7.8lbs/ft2 (38kg/m2)
1000lbs (454kg)
Min. 2000lbs (Min. 908kg)
Min. 2
800lbs (363kg)
600lbs (272kg)
150lbs (68kg)
Bolted Stringer
8.2bs/ft2 (40kg/m2)
1000lbs (454kg)
Min. 2000lbs (Min. 908kg)
Min. 2
800lbs (363kg)
600lbs (272kg)
150lbs (68kg)
Composite Board Raised Floor Loading Capacity
System Performance Criteria (Tested on Actual Understructure)
System Type
SYSTEM WEIGHT
STATIC LOADS
ROLLING LOADS
IMPACT LOADS
Panel
Understructure
Design Loads
Ultimate Loads
Safety Factor
10 Passes
10,000 Passes
Composite Board Panel with Homogenous Vinyl Tile(CBF1000)
Bolted Stringer
9bs/ft2 (40kg/m2)
1000lbs (454kg)
Min. 2000lbs (Min. 908kg)
Min. 2
800lbs (363kg)
600lbs (272kg)
150lbs (68kg)
Calcium Sulphate Raised Floor Loading Capacity
System Performance Criteria (Tested on Actual Understructure)
System Type
SYSTEM WEIGHT
STATIC LOADS
ROLLING LOADS
IMPACT LOADS
Panel
Understructure
Design Loads
Ultimate Loads
Safety Factor
10 Passes
10,000 Passes
Calcium Sulphate Floor(CSF1000)
Bolted Stringer
12.3bs/ft2 (60kg/m2)
1250lbs (570kg)
Min. 2000lbs (Min. 908kg)
Min. 2
1000lbs (454kg)
1000lbs (454kg)
150lbs (68kg)