News Tag
Products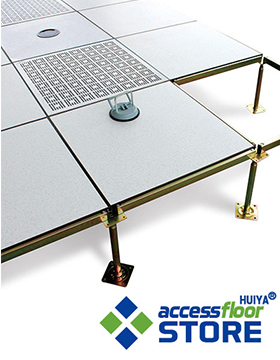 Best Methods To Do Perfect Cable Management For Your Office, Data Center and Workplaces
2019/10/8 16:59:28
Modern communication technology has become an integral part of today's office equipment. From the PC to the laptop, from the monitor to the printer, from the office lamp to the shredder - without power-driven devices, working at the office is inconceivable. With all these things, there are hardly any differences between commercial jobs and those in the home office or in the private sector.
But all of these devices have a common feature, and these are their connection cables. On a computer, it can be up to ten pieces, and from the power cables, data cables and the connections to the mouse results in a jumble, which is hardly manageable without the careful procedure.
But the stripping mess does not just look messy and unprofessional. It is also dangerous and it robs us of valuable time. In the following, we would like to give some suggestions as to why and how to deal with the chaos in the offices with targeted cable management and how it leads to successful solutions.
What Is Cable Management?
Cable management means organizing and organizing electrical, optical and other cables in your workplace. This includes locations in heavy industry, warehouses, and factories. But in these environments, the health and safety implications of cable management are (or should be) at the top of the agenda. That's why we focus on cable management at office workplaces.
Cable management comes in many different forms. Most modern desks have built-in cable management. For example, openings in the desk or cable covers that allow quick and clean cable routing in the legs of the table. And for those of you who prefer not to part with Grandpa's beautiful old office, there's a wide range of value-priced cable management accessories such as the Raised Floor Grommets that will keep cables neat and secure around your desk.
Why exactly is cable management so important?
Why cable management is so important for your workplace? Here are 4 key reasons why cable management should not just be considered as a nice way to make the workplace a little neater:
Bad cable management = dangerous: Loosely hanging cables pose an accident risk. And sooner or later something will happen! Each cable is fixed at its ends in a certain way, be it at the socket, a socket or a cable gland. If it loosely loops between these connection points, it represents a permanent risk of tripping. If it is on the common running paths, its cable sheath can be damaged. Electric shocks on a power cable and short-circuiting of equipment in a low-voltage or data cable are not uncommon. But the hazards of looping are also present in less frequented places in the room. Already opening the window behind the office table can be enough to thread a loop with the foot. This is only noticeable when the keyboard or the office lamp is pulled along and suddenly crashes on the floor.
Cable management makes a more efficient work environment: Office technology is portable, so printers and routers, chargers, and power adapters often change location. If the cable salad has become a mess, the unraveling is difficult. Some cables even need to be pulled out of its socket to unknot it from the others. When the knots are removed, disillusionment follows. Which cable was in which socket? Frustration and errors are often unavoidable. Good cable management system makes it possible to upgrade your cables or replace devices without any connection problems. Especially in data centers, computer rooms and other areas with a large number of important equipment, good wiring management can effectively reduce maintenance time and reduce the possibility of errors.
Cable management makes your office and workplace look better: cable management makes the workplace look nice. A decent office is more important than it might seem: Bad cable management automatically gives the impression of a badly organized and chaotic company, also effects on your employees. The same is true for creating a comfortable work environment for your employees, with good cable management essential.
Cable management supports cognitive ergonomics: Negative work stress is never good. Studies are increasingly pointing to the negative impact that a chaotic work environment has on the well-being of employees. In addition to elements such as plants and art in the workplace, one should not underestimate the calming effect of a tidy workplace. And cable management plays an important role in creating a quiet and pleasant working environment.
How Can We Arrange The Inevitable Cables Effectively?
2 main methods for successful cable management:
1. Cable Management for Small Rooms
Everything in its place, save a lot of time and cost. Is a long cable lazily hanging around in the area? Another has turned on the ground to loop-shaped and turned into an almost deadly tripping hazard? With some very simple tools, problems like these can be solved in no time.
Cable Ties (Cable mounting clips, Cable loop ties): This allows unruly cables to bundle and tame long-termed specimens. Very helpful, very cheap and very easy.
Cable waves: Neatly tidy cables running under a desktop.
Cable eaters (Cable worms): Simply bundle the cables in your hand, feed the cables through the cable eater using the special tool.
Cable protectors (cable protection hose): Several cables are embedded in a hose and are thus much better cleaned up.
Suitable for: Private residence, normal offices with a small number of computers and electronic equipment.
2. Cable Management for Mass Work Environment
It gets more complicated if you want to lead your cables along the ground. Of course, moving them across the room is not an option. Therefore, it is recommended, for example, to put on a cable channel. Many skirting boards have even integrated such a channel or are provided so that he can hide behind it. This makes it very easy to lay cables in a room over greater distances.
Use Raised Floor To Offer Effectively Underfloor Cable Management
While for a work environment with huge equipment and complicated cable routing (electrical, IT, voice and data cables), put the wires above floor or external space is not suitable, as it is hard to use cable trays to support your wires near the ceiling or hide messy cables in channels. The underfloor cable management from the data center raised floor system provides an effective method of routing cables within the floor surface itself, which can then be finished off with options like wood, marble, steel, aluminum, tile or carpet.
To achieve the perfect underfloor cable management, raised floor systems are widely built in workplaces with mass electrical, IT, voice and data cables, such as data center, server room, computer room. Raised Floor systems today deliver data and power exactly where they are needed in the room: No visible or loose cables disturb the high-quality interior.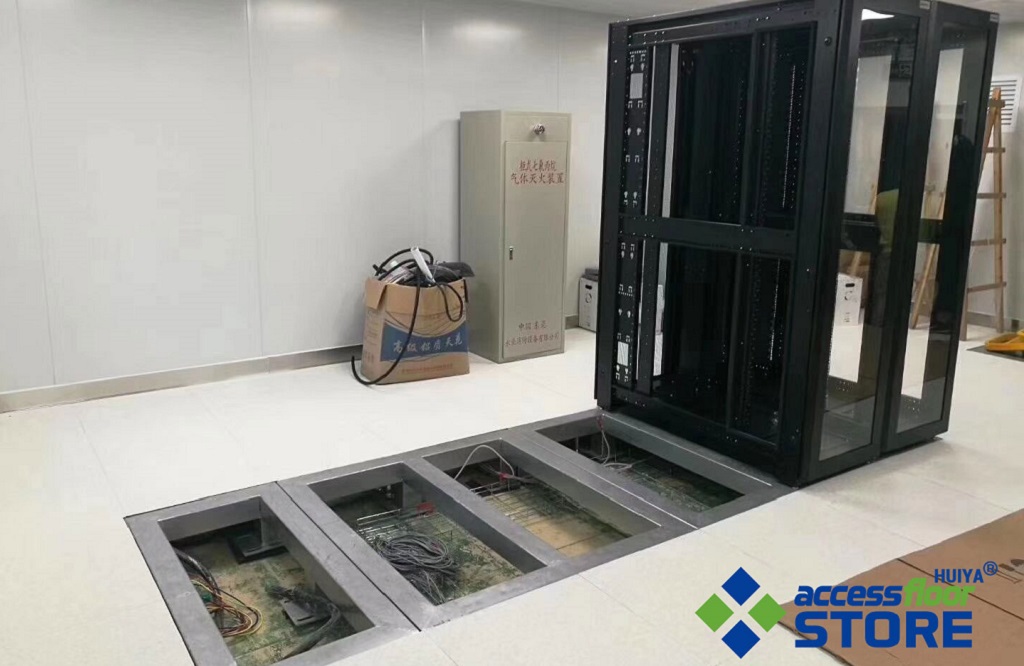 Huiya Cable Management Flooring is a unique system of raised access flooring that provides integrated cable raceways for electrical, data and voice cables, a flexible and rapidly-deployable cable management solution for all industries. We're providing the access floor systems with panels, boxes, and grommets to accommodate your floor-based power, data, A/V and telecom cables, which are perfect for computer rooms, server rooms, and data centers and range from high-capacity to super simple. In addition to using in server rooms, Huiya false floor systems are also convincing in offices, meeting rooms and public buildings with their sophisticated designs and high-quality finishes.
Suitable for: Offices, Public Buildings, Data Centers, Server Rooms, Call Centers, Computer Rooms, etc.