Aluminum Grill Raised Floor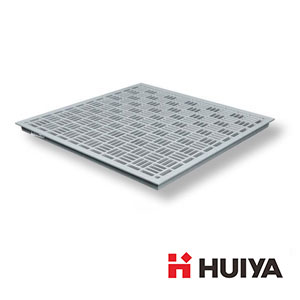 /ImagesProduct/aluminum-grill-raised-flooring00554729813.jpg
Aluminum Grill Raised Floor
Sell Type: International business
Product Attributes:
Email: [email protected]
WhatsApp: +86 18018280738
PRODUCT DETAILS
A cleanroom is a special room wherein airborne contaminants, such as dust and other debris, are kept to a minimum. Plants that manufacture precision equipment work on processes at the nano level, including micro-semiconductors and liquid crystal, and the presence of dust and other contaminants are a direct cause of defects. Cleanrooms solve this problem by cleaning the air via a system that vents air downward from the ceilings to carry dust and other contaminants down through holes in the floor panels, where they are removed in the space under the floor, instead of blowing them around the room, as with ordinary air-conditioning systems.

The high-pressure cast aluminum alloy floor Aluminum grill raised flooring is precision-cast and formed by fusion with high-load structure design, and then processed into various series of floors, with HPL, conductive static floor tiles or other surface coverings. The raised floor system is composed of Aluminum grill raised flooring , a vertical support base, a lateral traction truss beam, and a sound-absorbing pad. In addition to anti-static generation and bearing load, the raised floor can be equipped with a high-floor floor to accommodate configuration cables, air conditioners, piping and free to open the floor and make renovations.
Features
The standard of floor components, high dimensional accuracy, easy construction and interchangeability.

High load structure design, the height of the erection can be adjusted.

Panel color, material, and functionality can be selected according to your needs.

Moisture-proof, rustproof, fireproof, durable, recycling long-term use of flooring.

High-pressure cast aluminum raised floor can be used in cleanrooms of grade 10 to 100,000.