Ceramic Anti Static Raised Floor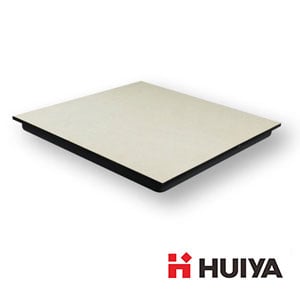 /ImagesProduct/porcelain-raised-flooring-type-115547106202.jpg
Ceramic Anti-static Raised Floor
Sell Type: International business
Product Attributes:
Email: [email protected]
WhatsApp: +86 18018280738
PRODUCT DETAILS
Ceramic Anti-static Raised Flooring System - Ceramic Raised Floor Panel
HuiYa Ceramic Anti-static Raised Floor - Ceramic Access Floor Tile is made of antistatic ceramic and steel as the main body, which is stretched forming,spot-welded, coated with epoxy powder after phosphating, infill with foamed cement, with corner lock. The bottom of all-steel anti-static floor with Porcelain surface made of ST14 stretching board, the surface is made of SPCC rigid steel plate, after stretching, spot welding to form an all-steel shell structure. The pedestal is formed by die-casting steel base plate, square tube stringer, and threaded rod (adjustable height). Therefore, our Ceramic Anti-static Floor has stable anti-static properties, wear resistance, corrosion resistance, with four sides PVC/ABS edges.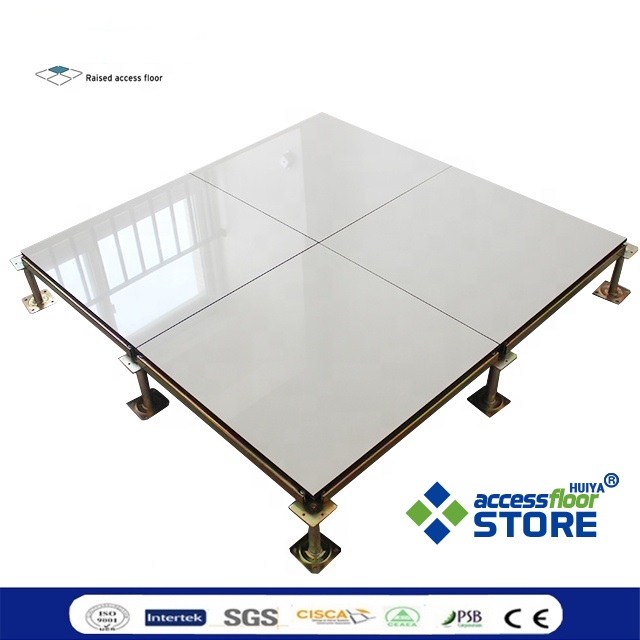 HuiYa Ceramic Anti-static Floor Tile
Ceramic Anti-Static Raised Floor Specification
Size: 600mm*600mm*40mm

Main Material: Steel, Ceramic, Cementitious

Finish Material: Anti-static Ceramic finish

Special Function: Anti-static

Ceramic raised floor surface: Thickness of 10mm ceramic

The height of pedestal: 80mm-300mm, can be customized.

Certificate: ISO9001, ISO14001, MOB, CE, CISCA, GMC
Applications
Our Ceramic Anti-Static Access Floor System is widely used in program-controlled computer rooms, control rooms, laboratories, electric classrooms, microelectronics production and installation workshops and areas with high cable management and anti-static requirement, can also be used for intelligent office buildings, banks, post and telecommunication offices, power dispatching rooms and other places.
Data Center

Computer/control room

Communication center

Laboratory

Micro-electronics workshop etc
Features & Benefits
The surface has strong abrasion resistance, the hardness reaches 7 degrees Mohs, no radioactive elements, pollution resistance and easy to clean

Using the latest patent "Rib" structure, excellent pressure-resistant performance, high dimensional accuracy, good smoothness

Four sides support, easy to install, flexible assembly, the underfloor space can be used for air conditioning ventilation

It inherits the wear resistance of ceramics and the high bearing capacity of steel plate, and is not easy to deform

All-steel ceramic anti-static floor is composed of all-steel, lighting but with high mechanical strength, strong load-bearing capacity and good fire resistance

Anti-static electrostatic sprayed surface, good anti-static performance, wear resistance, corrosion-resistant, anti-pollution, fire protection, non-cracking

Decorative design, high dimensional accuracy, easy to clean, dust-free, easy to clean, without waxing

Huge capacity and excellent management for wires and cable, good interchangeability, easy maintenance and durability
Loading Capacity
Type

Size(mm)

Fire Performance

Concentrated Load

Impact Load (N)

Ultimate Load (N)

Uniform Load (N/m2)

Rolling Load (N)

LB

N

KG

10 times

100000 times

FS800

600x600x35

A

≥800

≥3350

≥363

≥536

≥11250

≥16100

3560

2670

FS1000

600x600x35

A

≥1000

≥4550

≥450

≥670

≥13350

≥23000

4450

3560

FS1250

600x600x35

A

≥1250

≥5560

≥567

≥780

≥16680

≥33000

5560

4450

FS1500

600x600x35

A

≥1500

≥6675

≥670

≥1005

≥19892

≥34500

6675

5340

FS2000

600x600x35

A

≥2000

≥8900

≥906

≥1340

≥26700

≥46000

8900

7120
Pedestal Standard Height (Can Be Customized)
| | | | |
| --- | --- | --- | --- |
| Base Plate (mm) | Tube(mm) | Upward (mm) | Downward (mm) |
| ≦600 | ф25 | 20 | 10 |
| 700~900 | ф32 | 20 | 10 |
| 1000~1500 | ф45 | 20 | 10 |