High Quality Non-directional Homogeneous Vinyl Flooring Rolls (PVC Flooring Sheet)
Huiya is a manufacturer specializing in commercial and industrial flooring solutions, with a thorough knowledge and rich production experience of the flooring industry. In addition to high-end raised floor systems, we are also committed to manufacturing and providing customers with high-quality and cost-effective non-directional homogeneous vinyl flooring sheets.

Non-directional Homogeneous PVC Sheet Floor Introduction
Huiya homogeneous vinyl non-directional sheet flooring series is produced using RHPP technology - through the physical method, the vinyl sheet is rolled in a high-pressure closed space to increase the density of the floor, and the pores on the floor surface are closed to increase its finish and resistance Plan performance. In addition, the reinforced penetrating polyurethane PUR anti-fouling treatment and the second continuous roll forming greatly enhance the performance of our single-layer homogeneous transparent elastic flooring, which also gives our attractive high performance and high quality non-directional homogeneous vinyl flooring series a unique advantage!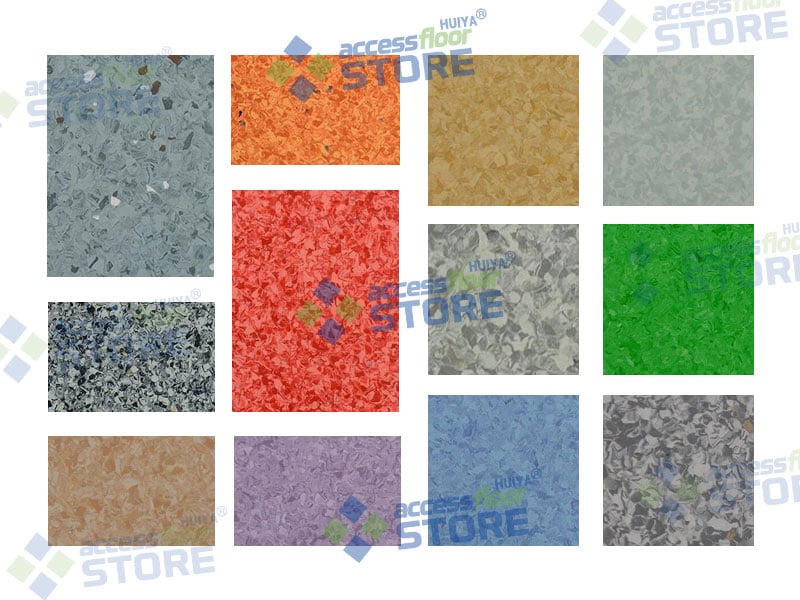 Non-directional Homogeneous Vinyl Flooring Specifications & Features
Thickness: 2.0mm, 2.5mm, 3.0mm

Size: 2m width x 20m length per non-directional homogeneous vinyl roll

Weight: 2800~2900 g/sqm

Raw Material: 100% Phthalate-free vinyl chloride

Surface finish: Matt finish, 200+ colour tones of a soft, classic non-directional pattern available

Surface treatment: PUR Protect special maintenance treatment

Abrasion group: Group T wear rating compliant according to test standard EN649 (very high resistance to traffic for a long time)

Impact sound reduction: Approx. 6dB according to ENISO717/2, meet EU EN1081, great sound absorption and mute performance

Anti-Static: Static control are available, can be customized according to customer needs

Environmental protection: ISO14001 certified, raw material and production reached European standards, 100% recyclable

Antibacterial and health: Can effectively inhibit the growth of MASA. TVOC after 28 days < 10µg/m3 => indoor air quality

Fire Prevention: Bfl-S1, t0 level, meets the requirements of indoor materials fire and flame retardant

Installation & Maintenance: Facilitates floor-wall junctions, angles and welding treatments, easy to maintain, no wax for life, saving 48% maintenance costs

Service life: High durable ensure long-lasting
Non-directional Homogeneous Vinyl Flooring Roll Applications
Non-directional vinyl heterogeneous sheet flooring is suitable for both industrial and commercial purposes, perfect for high traffic spaces, such as public buildings, supermarkets, schools, hospitals, shopping malls, healthcares, pharmaceuticals, large public areas, etc.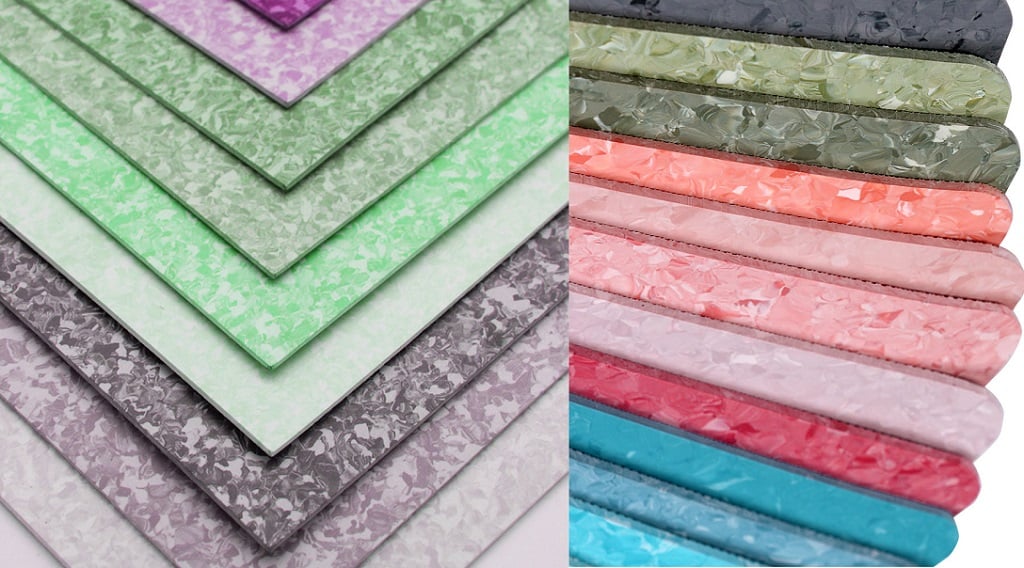 What is Non-directional Homogeneous Vinyl Flooring?
Non-directional homogeneous vinyl flooring is a type of PVC floor covering in large, continuous, flexible sheets, which is made of one single vinyl layer through multiple homogeneous pressed compacted, and with a non-directional pattern designed. The multiple compact processes enhance its density, also improves wear resistance, and extend service life. The surface pattern of the non-directional homogeneous floor has different colors and disorderly patterns, and there is no obvious sense of direction, making it more flexible and random to install. In addition, non-directional homogeneous PVC flooring retains all other advantages of vinyl flooring, such as high level of durability, incredibly stain resistance, low maintenance, and versatility, a great choice for heavy traffic areas in commercial and industrial projects.
Non-directional Homogeneous Vinyl Floor Advantages
Homogeneous, hardwearing and non-directional

Cost-effective, longer usage life span

Anti-bacterial and fungicidal, a Ta rating for best performance

PUR with anti-dirt surface minimizes scratches, scuff marks, stains, and maintenance

Waterproof, fire-resistant, anti-slippery, resistant to wear, hygienic

Easy to clean and maintain
Homogeneous Vinyl Flooring – The best Flooring solution
  One of the most common forms of vinyl flooring is homogeneous PVC flooring, which comprises one or more layers of the same material composition, color, and pattern throughout the product's thickness. When making a 2 mm thick floor covering, 45-55% PVC, 15-20% plasticizers, 25-35% fillers, and 2-5% pigments, stabilizers, and additives are combined cold. The mixture is then rolled out into sheets on a calendar in a quick operation using high heat. It's usually sold in a strip format (roll), also known as Homogeneous Vinyl Flooring.
Why is it essential to have homogeneous vinyl flooring?
  There is vinyl flooring that is pasted to the subfloor. The flooring is not only durable, but it also resists dirt and other impurities. Vinyl sheets are one of the low-maintenance flooring options due to their compact construction.
  Optional Colors:
  The homogeneous vinyl tile comes in a variety of solid colors. It is sure to give your room a professional look.
  A Single Layer Can Be Appealing:
  Even a single layer of homogeneous vinyl flooring may add depth and vibrancy to space.
  Protects against bacteria:
  The vinyl floors have a bacteria-prevention function. This makes it ideal for medical facilities and other public areas to keep clean.
Application of Homogeneous Vinyl Flooring:
  These floors and coverings, which are intended for conditions that we can conceptually and broadly describe as "sanitary," are made up of very thin sheets. These can also be used in reform contexts, such as fixing on top of pre-existing slabs.
  Previous damages can only be avoided by adding the last layer of self-leveling mortar. The sheets are then cut to size, and one option for laying them is to glue them to the support, which eliminates the need for adhesives.
  Because of the ease with which these floor coverings can be installed, more interior designers and renovators opt for sanitary flooring. Particularly when it comes to updating the floors of institutions that deal with health care, medical or biological laboratories, etc.
  Vinyl flooring is a form of finished flooring material used in industrial, healthcare, education, hospitality, sports, hospitality, and residential settings.
Advantages of vinyl flooring:
  Toughness and Longevity:
  Vinyl flooring can last a long time if properly installed and maintained. Some of them live for more than 20 years.
  Sanitized:
  The majority of vinyl flooring is sanitized, making it ideal for preserving health and preventing disease. This is why it's ideal for use in clinics, operating rooms, and laboratories.
  Maintenance is easy:
  Colors are infused into each layer of homogeneous vinyl flooring, making this type of vinyl flooring even more, scratch-resistant.
  Temperature:
  Most vinyl floors are soft and warm to the touch, making them suitable for barefoot walking. Vinyl flooring comes in various styles and thicknesses; however, the wear layer of your choosing, not the total material thickness, is the key determinant of its consistency and suitability.
How to Fit Homogeneous Vinyl Flooring:
  Phase 1 - Detection of the Base Ground
  · Detect the installation site atmosphere using temperature and humidity instruments. The temperature should be between 10 and 35 degrees Celsius, and the humidity should be between 20% and 75%.
  · Flatness Detection - Use a flatness detector to check the flatness of the base ground. The height difference should be less than 5 mm within 2 meters of the ruler.
  Phase 2: Laying the Foundation
  · Using a grinder, grind the base ground to remove unevenness and surface dust.
  · Remove glue, paint, and other stains with a blade; polish the raised and open areas with a polisher.
  Phase 3: Laying Vinyl Flooring Rolls and Cutting Them
  · Flooring should be left on the installation site for at least 24 hours to allow the material to regain its memory. The temperature of the flooring should be compatible with the temperature of the site.
  · Two vinyl sheets should be overlapped, with a 3cm overlapping radius. Cutting must be performed all at once.
  Phase 4: Welding PVC Sheet and Opening Groove
  · After the adhesive has completely cured, open the groove. To slot the seam, use a groove device; the groove should not penetrate the rim, and the groove depth should be 2/3 of the sheet thickness.
  · The dust and particles that have accumulated in the groove must be removed before welding.
  · The welding torch should be set to the appropriate temperature for the type of welding rod. The welding rod should be pressed into the groove at a consistent pace.
  · Use a blade to shovel the extra part above the sheet surface while the welding rod is semi-cooled.
  · Once the welding rod has cooled fully, cut the remaining raised portion with the blade.
Available in 100+ colors of modern pattern and excellent physical properties, Huiya no-directional vinyl floor is ideal for industrial and commercial projects, aslo we have directional vinyl floor rolls for sale. If you want to get the best and most cost-saving flooring solution for your program, welcome to send your inquiry to us now, our professional will help you out!