News Tag
Products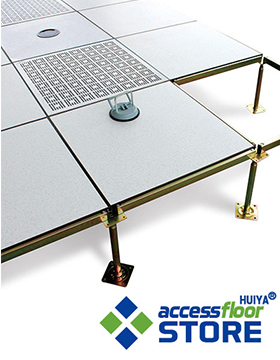 what is raised floor systems?
2019/12/17 21:37:24
What is the raised floor system?
Raised Floor systems, is also called access floor systems or elevated floor systems. it is made with an elevated structure that is placed on a reinforced concrete slab.
The raised floor system consists of several panels, As shown in Figure-1, it is a corner lock structure. The raised floor panels are installed on vertically adjustable pedestals. by using screws, it is easy to connect floor panels and pedestals. As it can be noticed in Figure-2.it is a Stringer Structure. Bolted Stringer (left) is used in raised floor systems. The pedestals are fixed on the concrete slab by using instance adhesives or mechanical fixings such as setscrew. That is all two substructures of raised floor systems.
What is the Floor Finish Height of raised floor systems?

The height between the raised floor system and concrete slab can be varied from Minimum 7.62cm (3inches) to 121.92cm (48inches). And Pedestal can be adjusted within 5cm. Customers can give technical panning before sign the contract. You would keep in contact with our customer services.
The Kinds Of raised floor systems?
How many raised floors you can choose? the panel of raised floor system is composed of cement or wood core, calcium sulfate or aluminum. The raised floor panels are compatible with several flooring finishes such as vinyl, linoleum, laminate, rubber, carpet, and stone or ceramic tiles.
Fig.1: Panel of Raised Floor System with their Adjustable Pedestals
Fig.2: Adjustable pedestals used to support panels of raised floor system; Bolted Stringer (left) and Stringerless corner Lock