What Is Peel and Stick Vinyl (Plank) Flooring & How To Install Self-Adhesive PVC Floor Tiles?
Peel and Stick Vinyl (Plank) Flooring also known as self-adhesive PVC floor tile is one of the highlights in the renovation market, which has found its way into private and commercial area, even in the bathroom and kitchen more and more often in recent years. Known for its excellent quality and price ratio, the self-adhesive vinyl flooring or PVC flooring also has the advantage of being quick and easy to install. The glue is already integrated, this economical coating can be installed only with the help of a few tools, in all rooms of the house.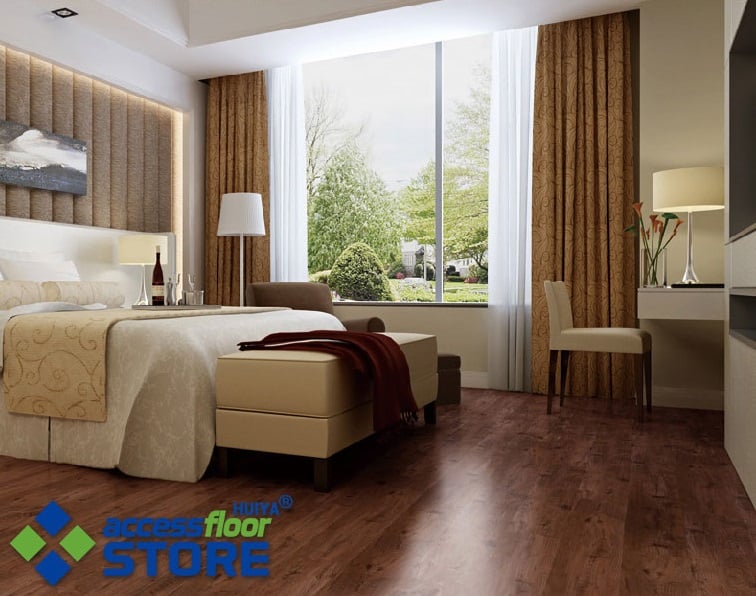 What is Peel and Stick Vinyl Flooring (Self-adhesive Vinyl Floor Tile)?
Peel and Stick PVC Floors are often called adhesive vinyl floors. PVC (polyvinyl chloride) Flooring and Vinyl Flooring are therefore the same products are made from the special plastic "polyvinyl chloride", has the advantage of moisture-resistant, soundproof, easy to clean and suitable for laying on underfloor heating. Adhesive or self-adhesive vinyl flooring is coated with glue beforehand, a protective film is then placed on the back of the product. When laying, you simply remove this film before placing your tile on the support. So you don't need any glue or adhesive. This saves you time and money. Whether you are a professional or a novice handyman, the installation of your self-adhesive PVC blade will be done in all simplicity, and all in no time! Check out Differences Between Peel Stick PVC Flooring and Click Lock SPC Vinyl Flooring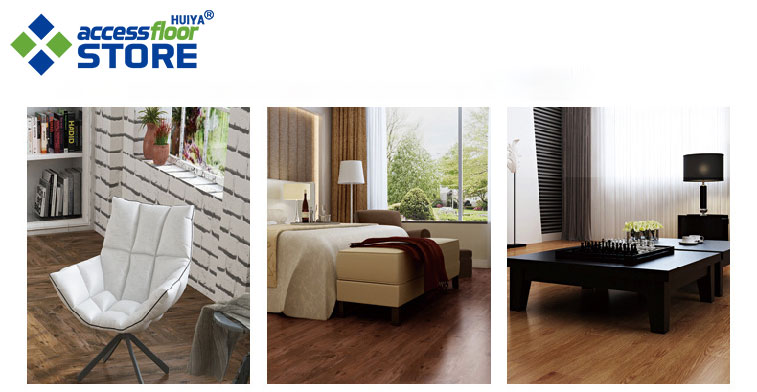 Features of Peel and Stick Vinyl (PVC) Floor
Like ordinary PVC flooring, self-adhesive vinyl flooring is also cost-effective, wear-resistant, waterproof, corrosion-resistant, and fire-resistant.

Adhesive PVC floor tiles are said to be "modular" and come in the form of vinyl plank or slabs.

Self-adhesive Vinyl Tiles are very thin products, on average 2 mm. Their width is between 9 and 16 cm and their length is between 100 cm and 150 cm.

The format of the tiles is generally 30 x 30 cm or 30 x 60 cm.

The adhesive is directly integrated on the back of the product and protected by a film.

Just remove the film and apply the strips or slabs on the support ready to receive this type of coating.

There are self-adhesive PVC floor coverings for permanent bonding but also repositionable Peel & Stick PVC Floor. Like a post-it, you can peel them off and keep clean support.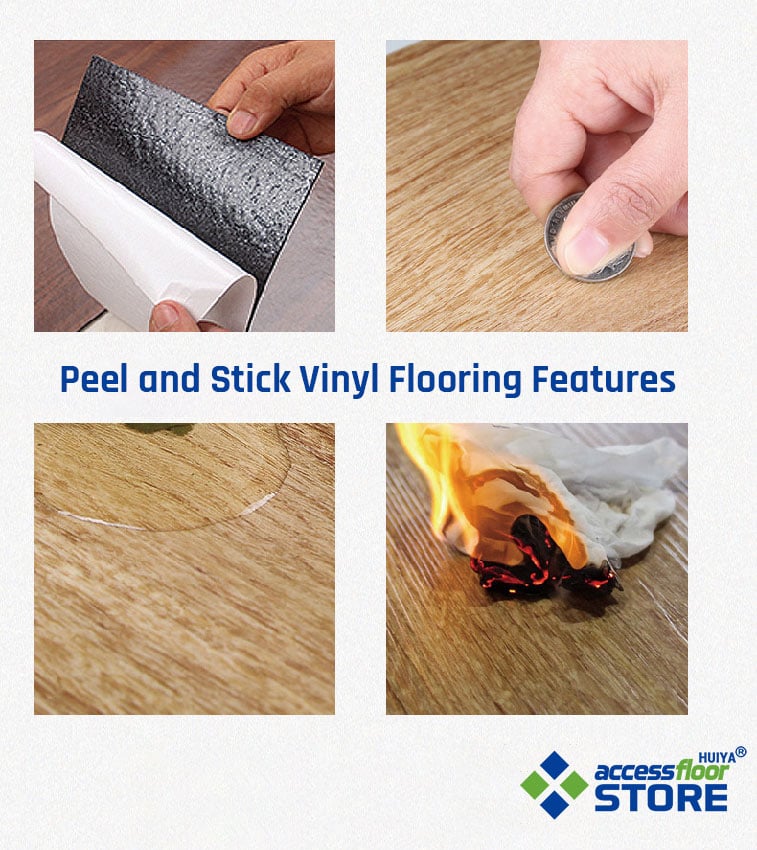 Advantages of Laying Self-adhesive Vinyl Flooring
Laying self-adhesive vinyl flooring has advantages. These reasons definitely speak for self-adhesive vinyl flooring:
There is no easier way to lay vinyl flooring - Because self-adhesive vinyl planks are prepared at the factory so that they adhere directly to smooth, level surfaces. Even if you're laying vinyl flooring for the first time, it's almost as easy as sticking on a sticker.

With self-adhesive vinyl flooring, you do not need to apply a separate adhesive - This not only saves money but also time and experience when gluing vinyl. Self-adhesive vinyl flooring is easy and safe to use even without specialist knowledge.

With a thickness of around 2mm, self-adhesive vinyl flooring is one of the flattest floor coverings - This makes every self-adhesive vinyl plank the ideal renovation floor for the living area. Especially when the installation height of the floor covering is crucial for glass doors.

Self-adhesive vinyl flooring can be easily replaced - If a vinyl plank is damaged or scratched, you can record each one for yourself. When heated with a hairdryer, it is easier to remove and a replacement plank from the remains of the installation can take up space again.
Related Read: How To Clean & Repair Vinyl Flooring (PVC Floor Tile)?
How To Install Peel and Stick Vinyl (Plank) Flooring Tile?
Laying self-adhesive vinyl floor tile - it couldn't be easier. If you want to lay vinyl flooring self-adhesive, you mostly aim for simple laying. Because the planks are ready to stick as a product, you only need the right grounds surface.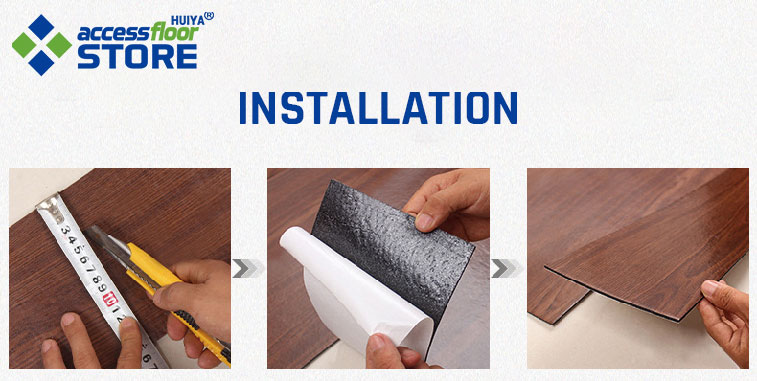 Tools For Install Self-adhesive PVC Floor Tiles
To install an adhesive PVC, the material remains succinct:
A pencil,

A meter;

A ruler;

A cutter (be careful to use quality blades).
Preparation Before Laying Self-adhesive Vinyl Floor Tile
Make sure that all the Peel & Stick Vinyl Tiles you need have the same lot number

Unpack the Peel and Stick Vinyl Flooring Tiles from their packaging, at least 24 hours before laying (ideally 48 hours). Once completely unpacked, store the PVC Flooring slats in small piles (decorations facing up) in the room.

Peel & Stick PVC Floor Tiles should not be laid if the room and support temperature is below 15 ° C. Ideally the installation is to be carried out at room temperature around 20 ° C.

Clean and dust the ground, otherwise, the glue may not adhere properly. Then make sure it is flat and uneven. The small thickness of the product will not forgive any irregularities.

Smoothing is strongly recommended on old substrates to avoid any damage on this type of floor covering.
Laying Steps of Installing Peel & Stick Vinyl PVC Tiles
Divide the room into 4 identical parts by tracing two perpendicular axes passing through the center, start laying from the center of the room following the line.

It is important to respect the laying direction (signposting on the back of the tiles/planks or on paper), how to stagger vinyl flooring:

- 369 Laying or Subway Laying: Start laying from the center of the room following the longest centerline. Then shift the second row by a third or a half PVC Floor tile and lay them, following the first row well.




- Herringbone laying: Start laying from the center of the room. Place the first two tiles using a square to obtain a 90 ° angle. All the PVC tiles angles must be aligned with the longest centerline. The installation of the first row must be completed before continuing with the others




Remove the protective sheet from the adhesive. Adjust the tiles and press it strongly several times, always from the center towards the edges, emphasizing the periphery.

Carry out the cut by taking 2 tiles. Superimpose the first tile A (with its protective paper) on the last entire tile installed. Place the second tile B on it, making it touch the wall. Use tile B as a rule and mark on tile A the cutting line. Cut according to the mark, remove the protective paper and apply the tile. This process must be used for each cut making up the edges.

- How to cut vinyl flooring: For irregular cuts, trace the exact outline on paper, cut it carefully, then reproduce it on a tile and make the cut. Remove the protective sheet and apply it.

If certain vinyl tiles show detachments, heat the tile with a hairdryer and rub down strongly on the area if necessary using a cloth (or a rolling pin type roller).
Replace Adhesive PVC Tiles (Peel and Stick Vinyl Floor Tiles)
Cut the adhesive vinyl tile into several parts with a cutter. Eventually, you can warm the tile with a hair dryer to make it more flexible. Then remove the pieces starting from the middle so as not to damage the edges. You can then proceed to replace the product. Check out a more detailed guide of How To Remove Vinyl Flooring Tiles.
About ACCESS FLOOR STORE?
AccessFloorStore is a B2B online yeloowpage Platform. we have earned resoueces about vinyl flooing local store and facroty, and other flooring prodcuts such as raised floor , SPC flooring, Carpet Tiles and Caramic tiles. If you are interested in other flooring products and want to find relevant resources, you can contact AccessFloorStore.