Indonesia Data Center (Server Room) Raised Access Floor Projects & Supplier
Due to the development of e-commerce and other services, the application of the Internet is more frequent, and Indonesia is paying more and more attention to the construction and development of data centers. As a professional raised floor supplier, Huiya is proud to participate in the core part of the design and construction of large-scale data centers in Indonesia, by offering the top-grade but cost-effective data center raised access floor systems!
Raised Floor Systems Are Particularly Suitable For Use In Data Centers
Raised floor systems are particularly suitable for use in data centers, server rooms, technical rooms, and computer rooms, thanks to their great performance in underfloor air condition and anti-static which is essential for the normal operation of the data center!
Why Raised Floor Is Perfect For Indonesia Data Center Projects?
The raised floor is still an important part of many new data centers. But why? What is it for and what is its purpose? Here are some thoughts on raised floors.
Underflow Air Conditioning
In a data center, every electronic component, especially the processor, gets hot during operation. If heat is not dissipated, the performance of the processor will decline until the component even fails in extreme cases, affecting the normal operation of the entire data center. Therefore, cooling the data center is very important.
Due to the high computing power and increasing current density, we have to put a lot of effort into this. Therefore, we have equipped the data center with a raised floor with a special cooling system, which can regulate the temperature in the server room very precisely. Establish a raised floor system in the data center, and smoothly introduce cold air into the data center from the space under the floor through the perforated raised floor panel. Even in Indonesia, which is hot in the year, whether the external temperature rises briefly or the performance of the air conditioning system reaches its performance limit, it doesn't matter. You can read our other article to learn how raised floors can help data centers.
Safely Discharge Electrostatic Charges
In addition, Raised Floor for data center should have an effectively anti-static performance. Static electricity will not only cause random failures, malfunctions or calculation errors in computer operation, but also cause breakdown and destruction of certain components, such as CMOS, MOS circuits, and bipolar circuits.
The anti-static raised floor for the data center is designed to safely discharge electrostatic charges and insulate them from electric shocks. The raised floor panel should be dissipative, antistatic and insulating. Raised floor panels and substructure form an electrically conductive composite. When using the components of a conductive top covering, adhesive, edge band, and panel support and metallic substructure, the safe dissipation of electrostatic charge into the substructure is guaranteed.
Indonesia Data Center Raised Access Floor Projects
Two international examples in which Huiya Raised Floor System distributors have contributed with our data center access floor products and services show how the raised floor fits into the expansion as a multifunctional component in data centers.
Server Room Raised Floor In Indonesia NTT Com JKT2 Data Center
The first example leads to Jakarta 2 Data Center from NTT Communications. Jakarta 2 Data Center has a highly scalable capacity of 2,800 racks (dual power feed to each rack with) and s certified as Uptime Tier III Design. In the data center's server room, thousands of square meters of raised floors were installed, with 1,000 kg/sqm loading capacity of the data center raised floor. Hot and Cold aisle design realizes a highly efficient cooling system. The covering of the raised floor panels consists of a "High Pressure Laminate" (HPL). The basis of the covering is a substructure that consists of several layers of paper that are saturated with melamine and phenolic resins. This carrier layer is then pressed with a cover layer. This creates a highly scratch-resistant, easy-to-maintain surface. It is also anti-static and can withstand high temperatures for a short time.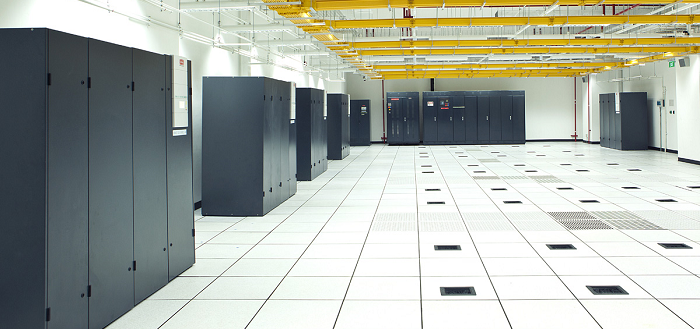 Indonesia Alibaba Cloud Data Center Raised Floor Project
The second project of raised floors is the data centers for the famous trade group in China, the China Alibaba (Group) Company. Alibaba Cloud is the only global provider of cloud computing services that has a data center in Indonesia, now it has launched 2 data centers in the country. The access floor for a point load of 6KN was installed in the two data centers on the area of over 10,000+ square meters. The overall height is 800 mm and, with a free cross-section of around 95% below the base course, provides the floor cavity required for installing the ventilation system and the cable routes. Steel profiles that are screwed to the support heads in the substructure make a stabilizing contribution to load transfer and at the same time serve to reinforce. The plate material here consists of mineral material. In accordance with the requirements, ventilation panels have also been used in the base layer for direct ventilation. In this project too, high pressure laminate flooring was applied to the raised floor panels.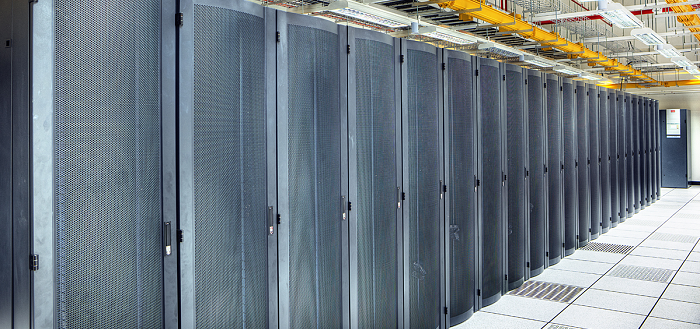 Related Read: Indonesia Office Raised Floor Projects
Why Indonesia Data Centers Choose Huiya As The Best Raised Access Floor Supplier?
Huiya Data Center Raised Floor Solutions are idea choice for technical rooms, computer rooms, control centers, server rooms, data centers, but also clean rooms.

The cooling, airflow, and cabling can be integrated into a raised floor system in the server room of data center. The raised floor can also be flexibly cut to meet special requirements. Huiya raised access floor offers a high level of security against moisture, fire, fire and electrical voltages. Our server room raised floor is very flexible when laying installations and allows adaptation to the circumstances at any time. Our access floor is the right choice when it comes to safety and flexibility. There is a cavity under the floor surface that allows free access as an installation space at any point. The cabling disappears into the floor and the air for cooling can be guided as best as possible in Data Center.
High-end quality, long service life, and profitable prices can ensure Huiya becomes the best data center raised floor supplier in Indonesia!