Indonesia Office Raised Floor Projects | Best Office Access Floor Manufacturer & Supplier - Huiya
In hot and humid Indonesia, Huiya office raised access floor system is also widely used in office projects of grade A modern contemporary commercial buildings, supplying a complete office flooring solution.
Best Raised Floors For Indonesia Office Flooring Projects
In Indonesia's hot and humid climate, whether it is a Raised Floor System placed in an A-level office building or a large convention center, it must face thermal insulation and moisture resistance. Huiya office raised floor solution can not only effectively solve these objective problems, but also create a comfortable and beautiful environment for the office and commercial area. Our Raised floors system is now part of many offices in Indonesia. They are equipped with a wide variety of floor coverings, which ensure a beautiful look and functionality. We can offer optimal systems for our customers and professionally expand or renovate existing floors in the office. Here are three of our most popular office access floors in Indonesia.
Encapsulated Calcium Sulphate (Galvanised Steel) Office Raised Floor
The safest raised access floor for wet rooms in office and commercial buildings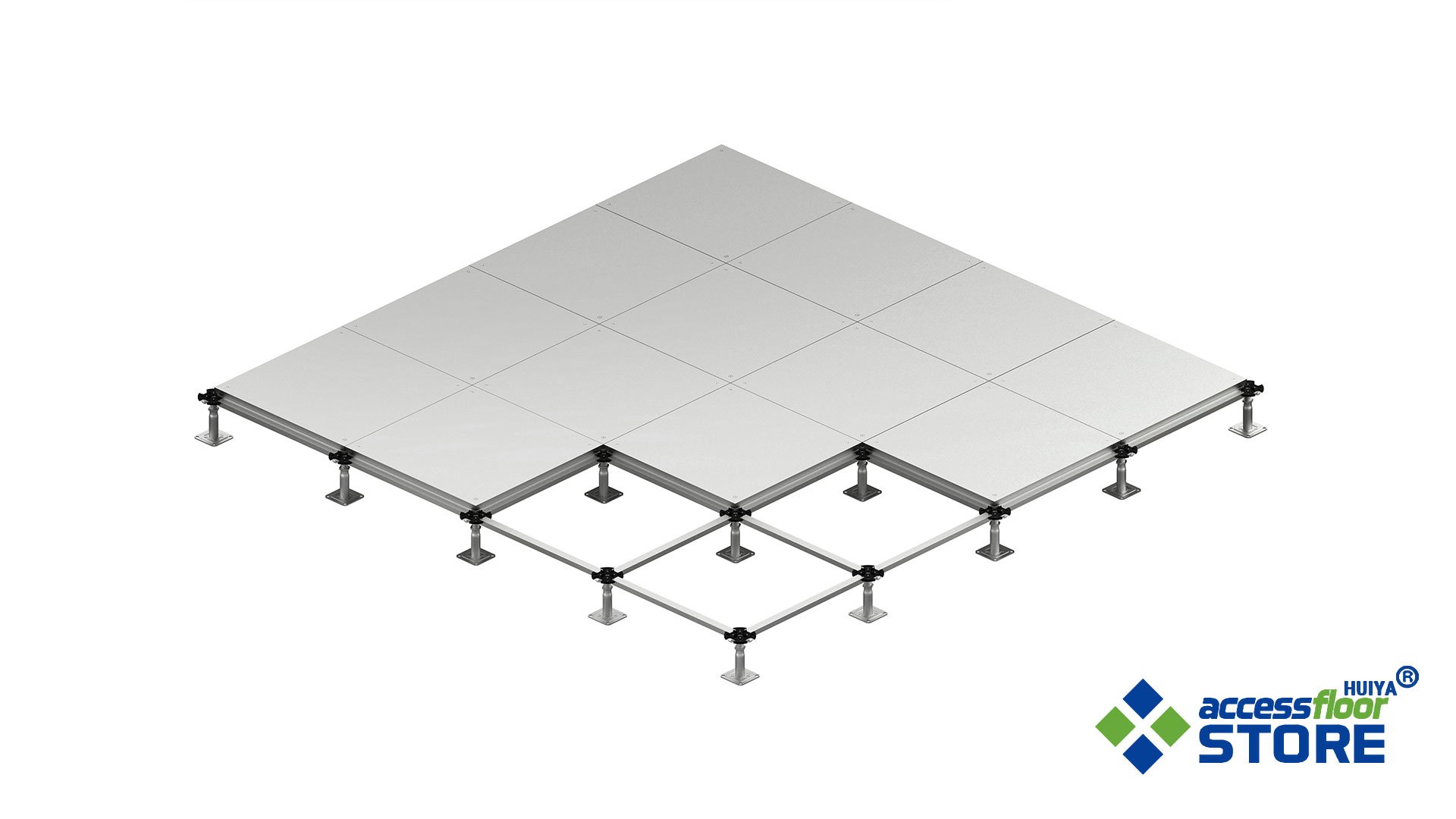 The Encapsulated Galvanised Steel (Calcium Sulphate) Raised Floor system consists of a 32 mm thick support plate with tongue and groove, which distinguishes this type of office raised flooring from conventional floors in computer rooms. Inspection hatches can be integrated to still get under the floor. The base plates consist of mineral fiber reinforced calcium sulfate. The supporting structure consists of galvanized steel screw threads, which are provided with head and foot plates. The moisture-resistant structural core protects the panel from situations that normally permanently damage a traditional woodcore panel. The panel is of robust construction and provides excellent uniform load performance. This type of office raised floor is mainly used for wet rooms and is ideal for any top layer as desired. Therefore, our calcium sulfate raised floor has become one of the favorite products of Indonesian customers and is widely used in multiple A-class offices.
OA Steel Cement Bare Office Raised Access Floor
Specially designed for the modern office building, practical and aesthetic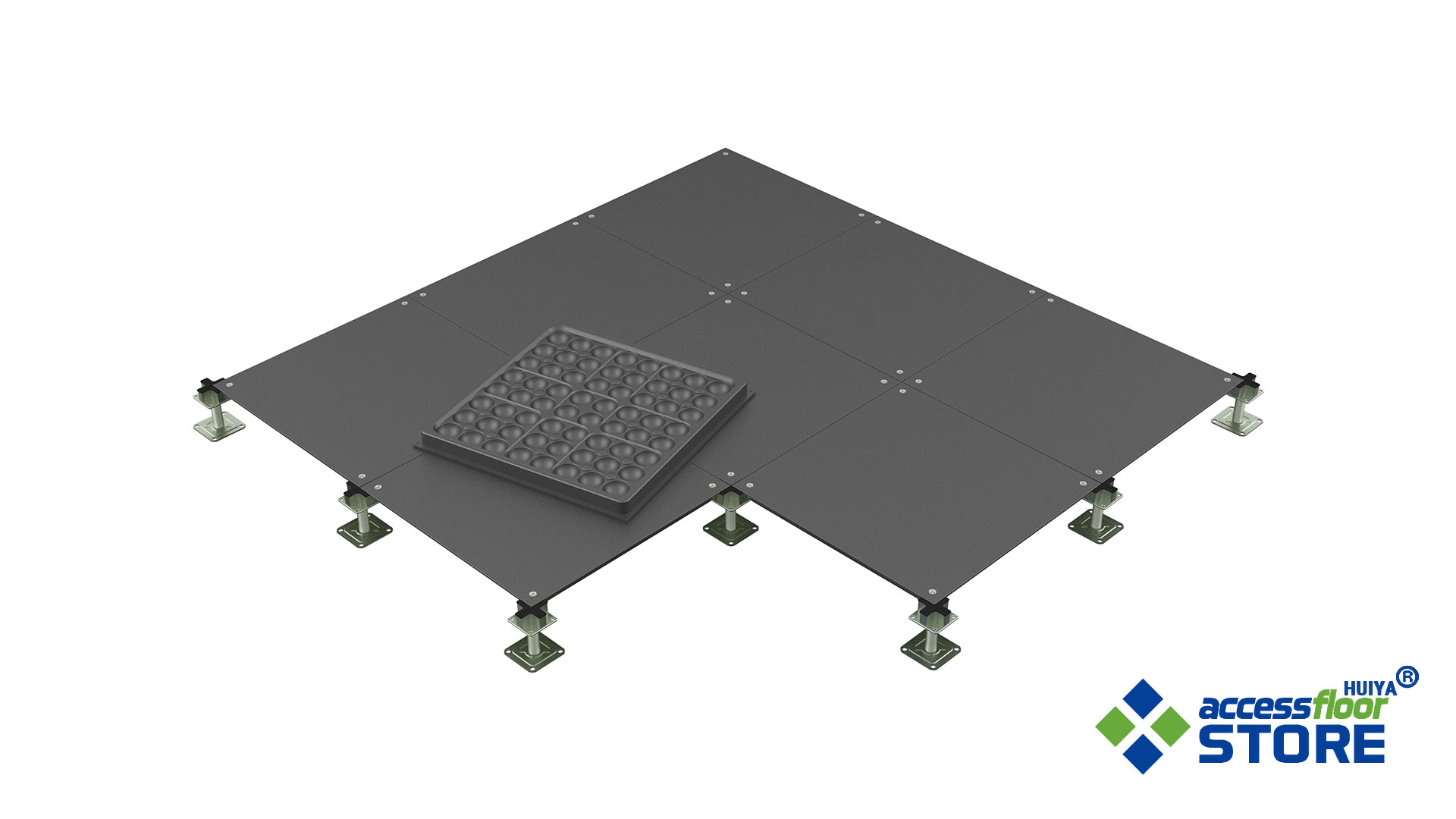 Another Huiya product widely used in Indonesia's office raised floor project is OA Steel Cement Bare Raised Floor, which is a raised floor designed for modern office buildings and workspaces. The extremely high fire resistance and load resistance, as well as its sound absorption level and invariance under wet conditions, ensure that it is suitable for all fields. Indonesian companies and studios have commissioned their commercial and industrial projects to raised floor manufacturers - Huiya to provide practical and aesthetic office access flooring projects. Huiya OA network raised floor is composed of the high-strength all-steel bare floor (steel shell filled with foamed cement, multi-point spot welding and forming), all-steel bracket, anti-static carpet or other finishes, high mechanical performance, large bearing capacity, fire resistance, moisture-proof. Comparing to traditional raised floor, trunking can be added to the floor freely. More flexible wiring can separate the strong and weak current, simplify the equipment maintenance, save the office building space and it fully reflects raised floor functionality.
GRC Cement Office Raised Access Floor
Healthy for workers, the service time is the same as the building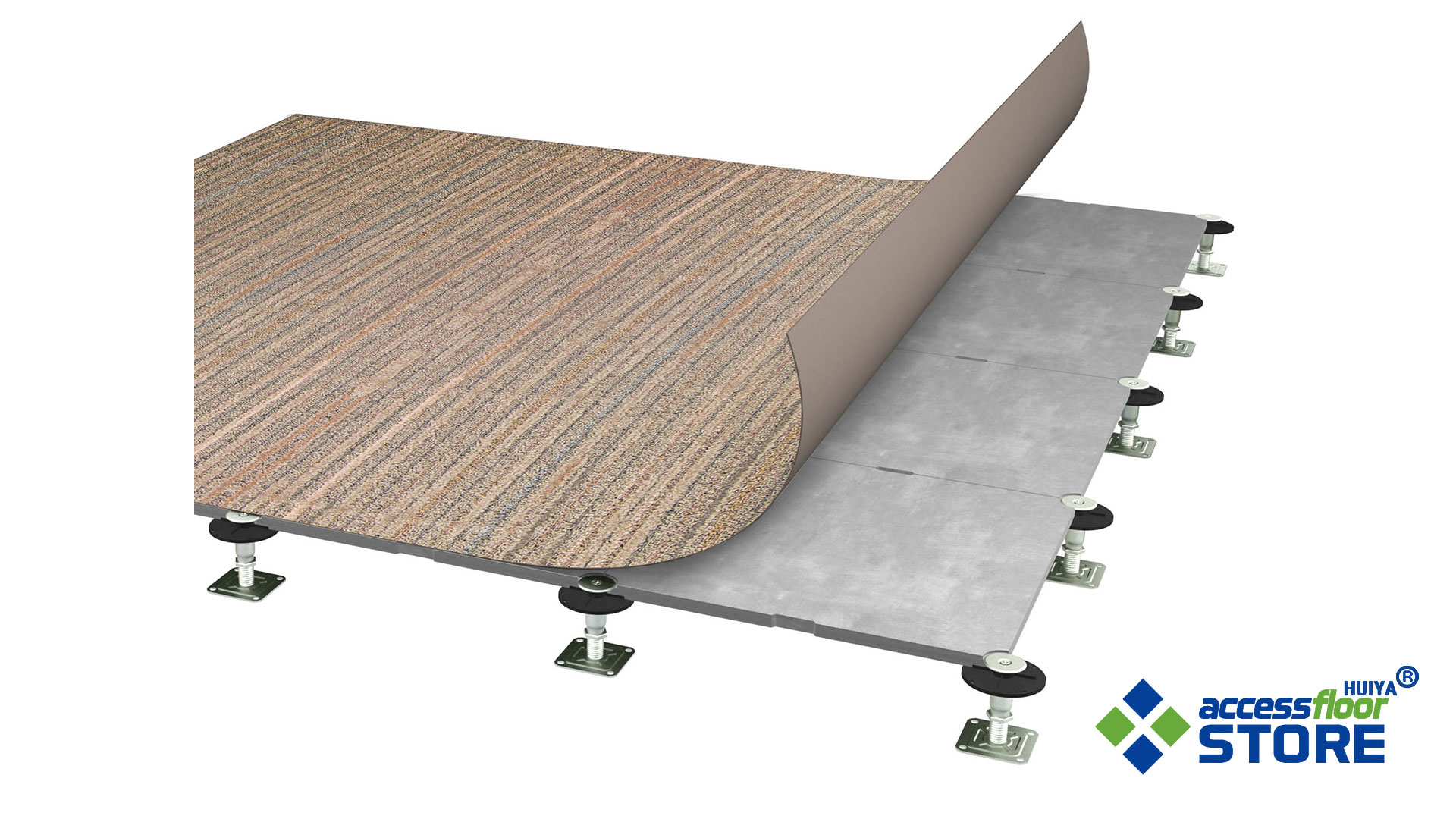 Huiya's GRC Raised Floor is also popular in some large office and commercial projects in Indonesia because of its huge advantages. Huiya inorganic cement floor is made of No.42.5 cement,40pcs barbed wire Φ2.5m, inorganic fiber, silicate, mineral fiber, quartz sand, etc, once molded after high pressure. There is a hole on each panel for wires, four pedestals support each panel corners without stringer. Huiya Cement Raised Flooring Systems are available in High Pressure Laminate, Vinyl, and bare steel painted finish that is designed for carpet or rubber installations. The office floor can be designed modular, contemporary or artistic thanks to the optional floor surface finishes. Huiya can also offer various finishes, such as high-quality vinyl floor and office raised floor carpets. In addition, GRC Cement Access Floor has great benefits of the excellent fireproof property, strong load-bearing capacity, lightweight, low transportation cost, recyclable, ECO-friendly and long service life.
Engineering, Production, and Assembly of Indonesia Office Raised Floor Projects
Huiya delivers specific custom office access flooring work for Indonesian customers. That means we produce, develop and assemble according to your order. So if you are looking for the best office raised access floor supplier in Indonesia for your project, please contact us now, avoiding unnecessary costs and material losses.