News Tag
Products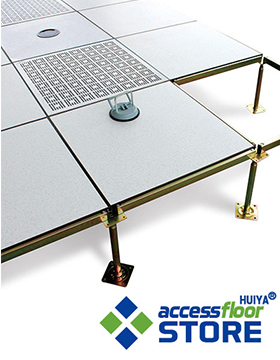 European All Steel Anti-static Flooring & Alumimum Alloy Anti-static Floor | Changzhou Huiya Access Flooring Supplier
2019/6/6 15:48:09
Anti-static access floor has remarkable high tolerance to fire and load, and its sound absorption level and immutability under water ensure that it is suitable for all types of applications. This time, Changzhou Huiya Decoration Materials Co., Ltd will introduce the conception of Europe anti-static floor and Aluminum Alloy Anti-static Floor. This can not only improve the overhead performance of the building, but also reflect the aesthetic adaptability.
European All Steel Anti-static Flooring
Changzhou Huiya Decoration Material Co., Ltd. is an anti-static raised floor manufacturer with the same quality in Europe. The company continuously specializes in foreign technology. Introducing foreign advanced ideas and production technologies and improve them in practice to contribute to the field of overhead movable flooring. All steel anti-static floor is made up of steel plate welding, high pressure injection of light cement, and epoxy anti-corrosion smooth coating.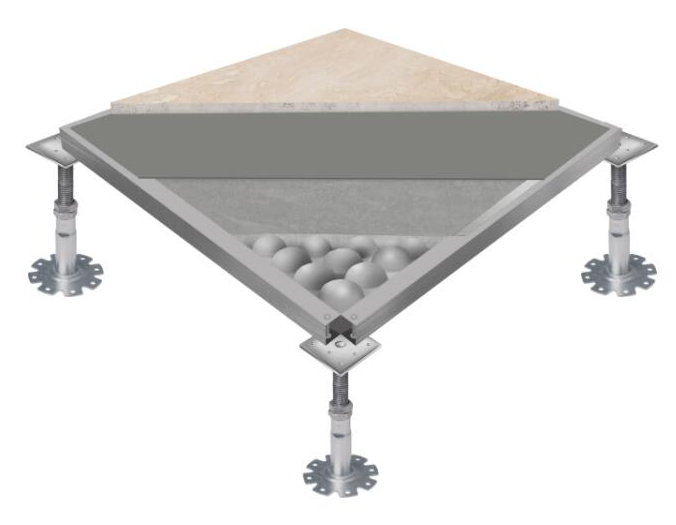 Here is the parameters of European Anti-static Flooring:
Panel Size: 600x600
Panel thickness: 34 mm
Panel Core: Steel Ladle and Cement Injection
BARE Completion: Bare threaded raised floor for subsequent application completion of loose overlays.
Factory completion: The possibility of applying various raised floor designs from the factory.
Structures: Strong and stable movable floor structure, composed of steel base and bolted truss, height from 55 mm to 2000 mm
European Anti-static Flooring high-performance features:
- Customized steel-cement floor configurations provide the highest level of dynamic and static load performance and maximum fire protection grade (A1-s1 under UNE EN13501).
- Strong full bolted R-height structure (base-longitudinal beam) ensures stable stability, leveling and better sound absorption in different barrier-free floor systems.
- Inert Composition (Steel Cement Plate) rated the system as having 0% humidity absorption classification, and obtained the lowest thermal conductivity compared with other traditional movable floor tiles on the market.
Aluminum Alloy Anti-static Raised Floor
Aluminum alloy anti-static floor has typical representative significance in the coming era of 5G. Aluminum alloy floor has the characteristics of high strength and environmental protection. Prices are also becoming more and more popular. Aluminum alloy anti-static floor is mainly used in 100-grade purification workshop. The requirement of mobile phones in 5G era must make the former 1000-level purification develop towards 100-level purification. The transformation of the new 100-grade purification plant and the old purification workshop has become a period of rapid development.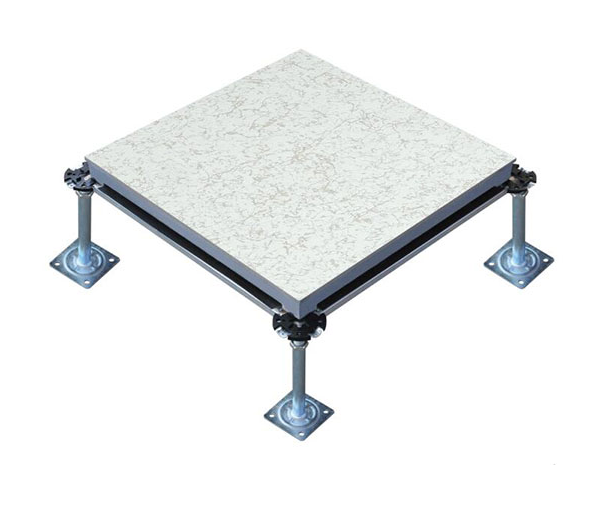 The load-bearing capacity of aluminum alloy anti-static raised floor can reach 550KG which is also a new environmental protection material. Aluminum alloy anti-static floor produced by Changzhou Huiya Decoration Material Co., Ltd. is formed by one-time forging process of aluminum ingot melting furnace, and then it is shaped by milling cutter and enters the veneer production process. The aluminum alloy anti-static floor will be tested by quality inspection before it can leave the factory. In addition, we can provide the factory certificate and the national professional quality inspection product inspection report, to ensure the quality and also provide a one-year product warranty.
Welcome to choose Huiya Anti-static access floor system!