False Floor (Raised Access Floor) Definition, Structure, Benefits, Application & All Information
You must have seen false floor in many office buildings, in this guide, AccessFloorStore.Com will going to give you detailed professional explanations about the false flooring system in different aspects.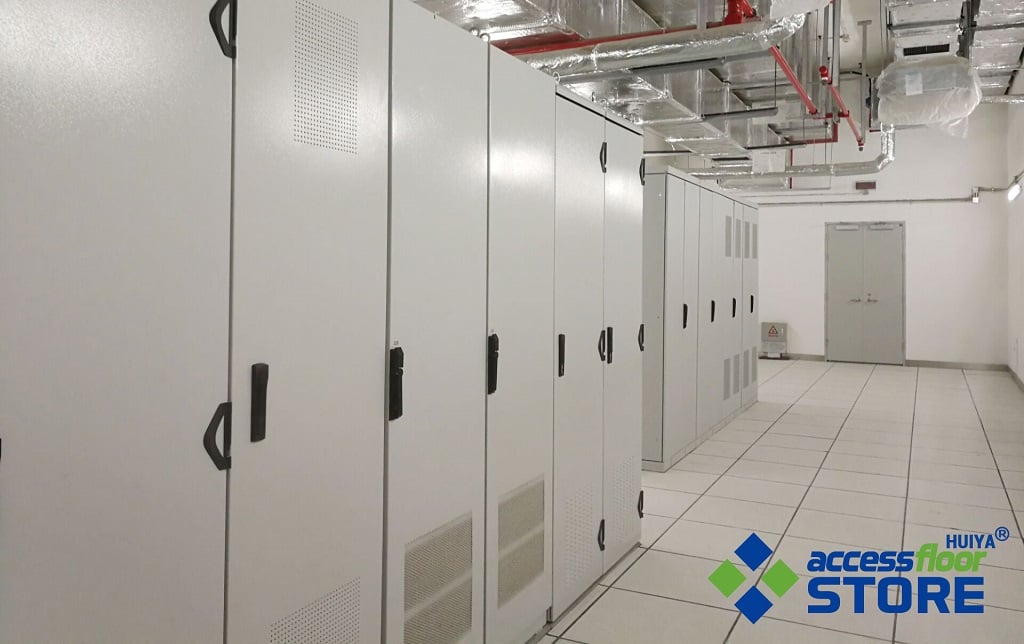 What is False Flooring? Why we use false floor? What are the components of raised floor? What are the types of Raised Flooring? Where we can use raised floor? What are the advantages & disadvantages of raised floor? What are the factors we have to consider while selecting or designing raised flooring? How raised flooring is installed? What precautions should be taken after installation? We are going to discuss all of these questions here. Now follow us to learn!
What is False Flooring?
False floor is also known as access flooring or raised access flooring system, referred to the floor constructed above the building's original concrete slab floor, leveling the open space created between the two for wiring or cooling infrastructure.
Why We Use False Floor?
Here is the main purpose to use raised floor in building: Create a voided floor space in which the services such as electrical, optical, telecommunication, heating/ventilation and mechanical can be routed.
What Are The Components of False Flooring?
Raised Floor System Structure is composed of panels on a grid supported by adjustable vertical pedestals, below are the main components make up the whole access flooring system.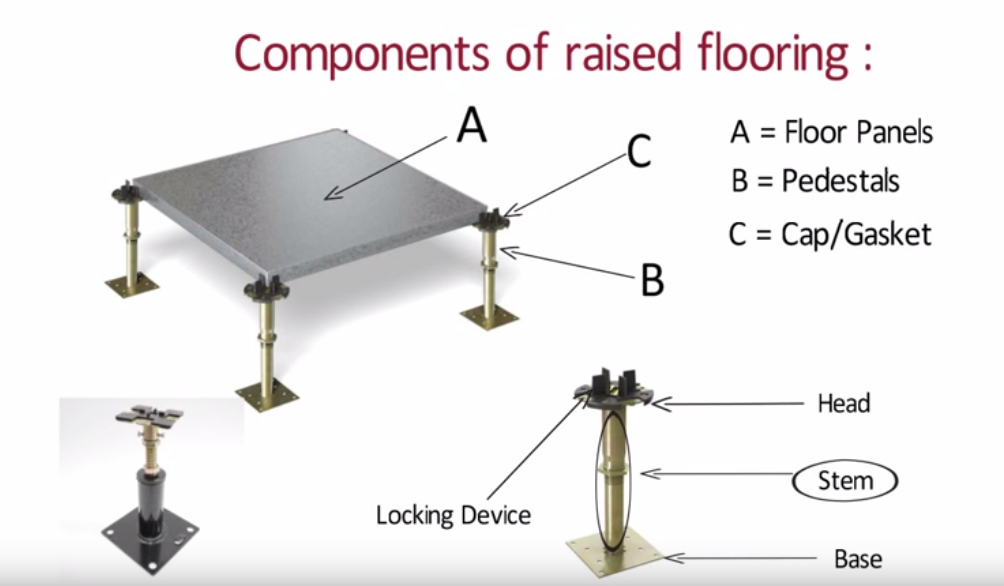 Floor Panels - Raised Floor Panels are typically 2 feet by 2 feet and are normally composed of a cement or wood core clad in steel or aluminum.

Floor Finish - The panels are compatible with many flooring finishes such as vinyl, linoleum, laminate, rubber, carpet and stone or ceramic tiles.

Pedestals - Raised floor pedestals are affixed to the subfloor through either mechanical fixings or adhesives. Since the pedestals are adjustable, the gap between the elevated floor and the subfloor can be between 3 and 48 inches. To ensure that the panel is fixed and supported stably, the pedestals must also contain the following parts:

Locking Device (Corner Lock)

Head Plate

Hexagon Nut

Stem (Threaded Rod)

Base Plate with trapped hole for earth connection

Cap/Gasket - It ensures stability of the coupling between the structure and the panel, increasing the continuity of support.

Stringer Bars - It provides the horizontal connection between the columns in order to obtain the required modularity, improving the stability and the distribution of loads on the structure.

Anchors - Used to fix the pedestal base to the subfloor surface

Subfloor Sealant (Seal) - PVA Sealant, Epoxy Sealant or Floor Paint, Raised Floor Pedestal Adhesive
Types of False Flooring System
Gravity/Loose Lay System
The floor panels rest loosely on the pedestal head, providing easy access to the floor voids below. A light-duty gravity loose lay raised access floor system, manufactured from high-density chipboard. Suitable for all commercial office and general use applications, these panels are ideal where cost is the primary concern in a project.
Lock Down/Screw Down System
The floor panels are fixed onto the pedestal head for greater security. Screw-down raised floor systems provide high tensile strength by using screw-down bare tiles. Steel bare panels have threaded holes for screwing bolts into them. It can provide superior strength with bolting down mechanism, ensure quick installation and self-engagement options, prevent shaking in access floors and makes your access floors durable for years to come, widely used for server rooms, factory floors and office spaces.
What Are The Advantages of False Floor (Raised Access Floor)?
Ease of reconfiguration and easy access - Access to air, power, voice, and data under the floor lets you reconfigure your layout with minimal downtime as your workspace needs change.

Energy savings - Help you reduce energy costs by pushing air up from the floor rather than down from the ceiling.

Cost-saving - With utilities under the floor, you can reduce electrical installation labor hours by 30-40%, resulting in shorter construction schedules and reduced costs.

Occupant health and comfort - Create a healthy work environment. Clean and newly conditioned air is introduced through the floor directly into the occupied zone.

LEED (Sustainability): Credit Contribution - Recycling of access flooring and reuse of access flooring component can reap savings in initial building costs and continuing operational costs, and for gaining LEED points.

Rapid Installation - Moves, adds, and changes are simple, allowing customization and speed toward occupancy

Design flexibility - Changing the design of existing spaces is not limited by the location of power and data. Floor height can be varied to accommodate various finishes or functions within a space.

High potential for customization - Color, logos and decorative patterns can be customized and manufactured by top raised flooring system supplier like AccessFloorStore.Com, a wide range of finish options and endless opportunities for customization through raised access flooring covered panels and bare panels.
Where False Flooring System (Raised Flooring) Can Be Used?
Modern Offices

Data Centers

Computer Rooms

Call Centers

Command Centers

Telecom Switch Centers

Casinos

Libraries

Offshore Drilling Platform Motor Control Centers

Classrooms

Industrial Control Rooms

Server Rooms etc
What Are The Factors We Have To Consider While Selecting or Designing False Flooring?
The standard requirements and considerations for raised access flooring designing:
Floor Height
Need for underfloor space, available ceiling height and budget
Panel Material
Concrete core steel panels - heavy weight & have steel frame with a concrete as internal core

Hollow all-steel panels - strong, light weight & easy to handle

Bare concrete panels - high load capacity and is fire, moisture, and static-proof

Aluminum Alloy panels - Hard to be deformed by water immersion and moisture, and will not corrode, so its service life is long

High strength polypropylene panels - drastic weight savings, easier handling and less environmental impact

Woodcore panels - Heavy duty composite wood core encased in galvanized steel

Calcium Sulphate infill panels - GI sheet encaping at top & bottom & calcium sulphate infill material
Load & Weight Ratings
Stationary loads, rolling loads, pedestrian traffic

Load ratings usually range from 450kg to 1150kg

Less traffic movement then lighter panels

Traffic movement is more then heavier panels shall be used
How To Choose The Right or Best Access Floor For The Building?
Application Type

Cooling System/Air Distribution Setup

Cabling/Wiring Needs

Weight & Load Capabilities
Read our Raised Access Floor Selection Guide/Tips to learn more tips on choosing the right or best false floors.
How To Install & Maintain Raised Access Floor (False Floor)?
On our Raised Access Floor (False Floor) Installation, Repair, Maintenance Guide, you can get detailed steps and tips for installing and maintaining false floor, here we also list some points and precautions for you:
Points to remember while installing false floor
Condition of the subfloor, which should be clean of debris and should be as leveled as possible
The walls surrounding the raised floor should be as square as possible
Precautions to be taken after installation of raised floor
Water Spilling

Alteration

Impact

Take off the panel

Wiring

Adequate Ventilation

Transfer and Installation of Equipment

Panel Lifter
That's all the information you should know about raised access floor (false floor), hope after reading this guide, you get a good understanding of access flooring systems. And if you are planning to set up a raised flooring system for your building, welcome to send your requirement and quote to AccessFloorStore.Com, we will get back you the best Raised Floor Solution!