News Tag
Products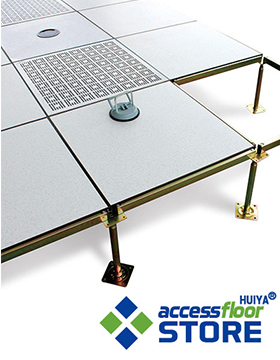 Raised Floor or Slab Floor? Which Is the Best Computer Room & Data Center Flooring Solution?
2019/11/15 17:18:25
In the early construction of large computer rooms and data centers, almost all of the equipment rooms and computer rooms were equipped with raised floors. The raised access floor is an important passage for the underfloor air distribution. The cooling equipment sends cold air into the raised floor to evenly distribute cold air to the rack in the equipment rooms. In addition, data cables and power wires can be placed in the space of the raised access floor. However, in recent years, more and more data centers have been laying slab floors, while cooling channels and power cables have been installed overhead. Which floor selection is the best solution for the computer room and data center? Here, Huiya provides you with a comprehensive analysis to help you make the most suitable choice for your data center projects.
Necessary Factors To Consider When Choose Data Center Flooring System
Enterprises and organizations need to consider the following points when choosing a data center floor or computer room floor:
Power Density: For today's high power density deployments, data center raised floors may lack the ability to achieve adequate cooling. Even if the cooling capacity is sufficient, the conventional cooling system may be inefficient and cause a waste of energy. So in this case, overhead cables and hard floors may be a better choice.

Frequency and Extent of Rack Re-arrangement: In data center facilities where some equipment is co-located, the cost of deploying overhead cables and piping, and reconfiguring the infrastructure may exceed the cost of inefficient cooling, as long as operational safety is maintained, the raised access floor is still a good choice. Installing overhead passages and solid hard floors for cables and machinery in the data center can be used as part of a long-term budget for the future.
Debate About Raised Floor: Is It Still Effective To Computer Room and Data Centre?
The use of raised floors provides some functionality for early data centers. As IT and equipment change, so does the user's need for flooring. E.g:
Air distribution for cooling IT equipment. Early data center devices vary in shape and size, and can easily lead to irregular layouts. Today, more and more devices are being standardized, making it easier to plan the location of the device and define the required airflow. Therefore, the need for a cooling passage is significantly reduced or eliminated.

Tracks, pipes or brackets for cable routing. In the past few decades, IT cabinets have been connected to a large number of cables. To avoid signal degradation, the length of the cable is as short as possible. Modern data centers use fiber optic or high-bandwidth Ethernet interconnect cables to transmit data. Therefore, the demand for short-distance access has almost been eliminated.

Cable routing space. When the industry is in its infancy, data center IT equipment is usually hardwired and power connections come under the floor. Therefore, it is necessary to use a detachable raised floor to facilitate access to the power cable. In contrast, today's cabinets allow power connections through the top. Configured PDUs and overhead buses provide a more efficient and reliable power path.

Grounded copper mesh for equipment grounding. Initially, there must be a strong grounding facility between the interconnected devices, so the IT equipment is typically connected to the copper signal reference grid. At present, the functions of copper and fiber-optic communication technologies do not depend on the grounding between devices, and their grounding wires ensure the safety of each branch circuit. In addition, the use of static dissipative (ESD) solid floors can assist in controlling static electricity.
Related Read: How Does Raised Floor Work Effectively For Underfloor Air Distribution (UFAD) In Data Centers?
When Is It Better To Use Raised Floors?
Data centers and computer rooms still have situations where it might be better to use raised floors:
The cooling system requires cooling water in the IT space. Although many of the functional requirements of raised floors have disappeared, some new cooling designs still require cooling water to be distributed to the IT space. In this case, the use of raised floor is still possible.

In a low power density data center, it is difficult or impossible to determine where the device is operating, such as in some caged hosting spaces.
In either case, the raised floor does not require a large depth. However, the cost of installing a raised floor system is extremely high compared to a hard floor. Therefore, data center designers and builders should carefully evaluate all of the options currently in use, rather than just selecting from past projects.

When Is It Better To Use Slab Floors?
Hard Slab floor designs are typically implemented in all types of data storage facilities and server rooms. Examples of more suitable hard floors now include:
Ultra-large data centers: Due to the unprecedented demand for huge storage capacity, the number is growing at an alarming rate.

High-density data centers: New fresh air systems and hot aisle containment strategies are available.

Small data center: Lack of space needed to build ramps on raised floors.

In a compact space: the floor cannot be raised and it is difficult to achieve the required power density.
As a result, more and more data centers are using hard floors due to the latest technology and design, as well as lower installation and maintenance costs.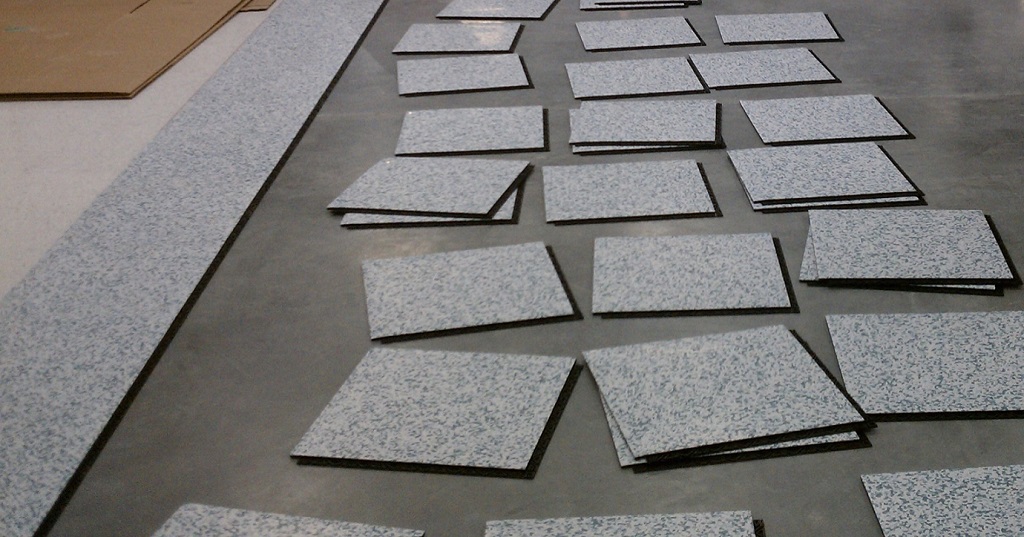 Anti-static Floor Panels Add Extra Protection To The Data Center
The floor of the data center facility is an important source of static electricity in data centers and other mission-critical facilities, in part because the static electricity generated by the friction between the sole and the floor surface accumulates in the human body as the worker walks around the room, and is touched on the human body. Released when the charge is transferred to another location. Although device manufacturers strive to incorporate antistatic protection into electronic products, some integrated circuits are still very fragile, and electronic interference with a voltage of only 25V can seriously damage or even destroy expensive equipment that is susceptible.
As a result, data center designers and construction managers explore hard floors that use grounded statics, while their seamless ESD floor coating system offers high reliability, durability, and ease of maintenance, such as the anti-static floor produced by Huiya can be used in raised floor systems as well as data center straight-laid hard floor solutions. For best results, data center operators need assistance with staff who meet the ESD Association guidelines and ANSI/ESD technicians who have obtained floor certification.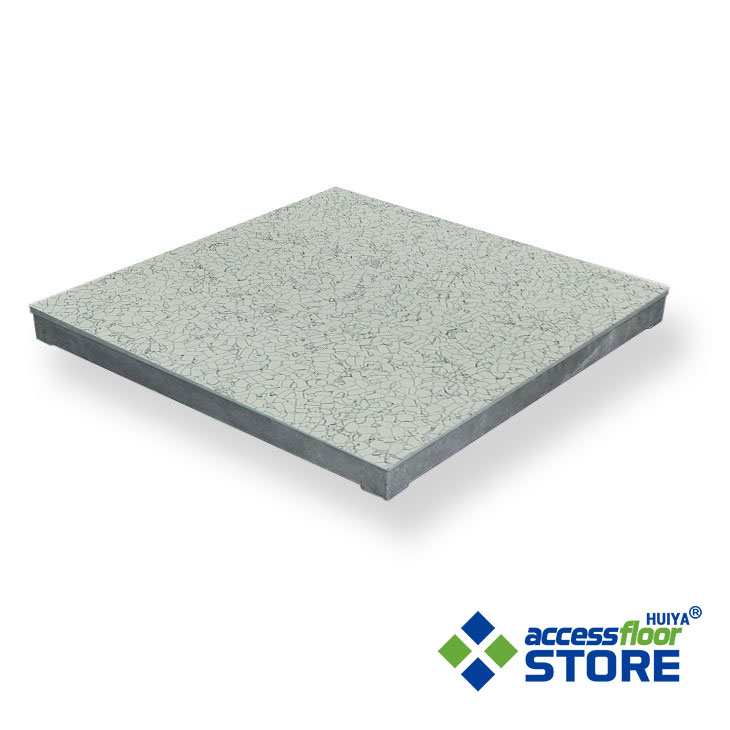 Best Data Center Flooring Solution
In summary, in terms of data center design and construction, elevated floors are still required for certain types of equipment as well as traditional facilities; in mission-critical data centers, raised floors are quickly replaced by hard floors. Today's data center owners and managers can choose different types of floors based on actual conditions, both improve performance and to save costs. As a well-designed floor room manufacturer with many years of experience, Huiya can provide the perfect data center floor solution according to your needs. Welcome to contact us!