Why Are Raised Floor Store In Local Is Important | HUIYA Raised Floor System
Many enterprise owners want high-end raised flooring systems in their offices and buildings because of their functional and elegant outcome. However, the cost of installing could be over the budget. Now, there is one brand that allows businesses to enjoy the best of both worlds. Huiya, being one of the leading brands for pioneer raised floor systems, brings you an efficient solution at an attractive price. The raised access floor catalog is wide-ranging together with stainless steel raised floor, galvanized steel calcium sulfate raised floor, HPL raised floor, etc. Among them, the stainless steel raised floor is the top choice for those looking for robust flooring in the data centers and IT offices. The export-oriented services help you install the first-class raised floor system without dealing with the hassles and risks.
Advantages of HUIYA Raised Floor System
Top of the line system - HUIYA utilizes the latest technology to design bespoke access floor systems that efficiently serve the purpose. The innovative panel is suitable for heavy traffic, and the acoustic features bestow rich beauty and a rewarding experience into your premises. Other performance standards include the resistance capacity of the panel, which ultimately ensures prolonged life.
Durability and Longevity - With properly installation, HUIYA raised flooring can last a lifetime. Our professionals undertake lots of responsibilities such as seismic condition, flooring level, moisture, heat, and humidity. Only after careful consideration, we bring you the best working raised floor system to meet your needs.
Contributes to a healthier environment - Each of our raised floors is designed as the international standard and envisioned to improve your property's essence. Our ISO raised access floors are really handy for cable management, upgrade flexibility, and cooling efficiency. Not to forget, a custom-made raised floor allows easy access to building grounds.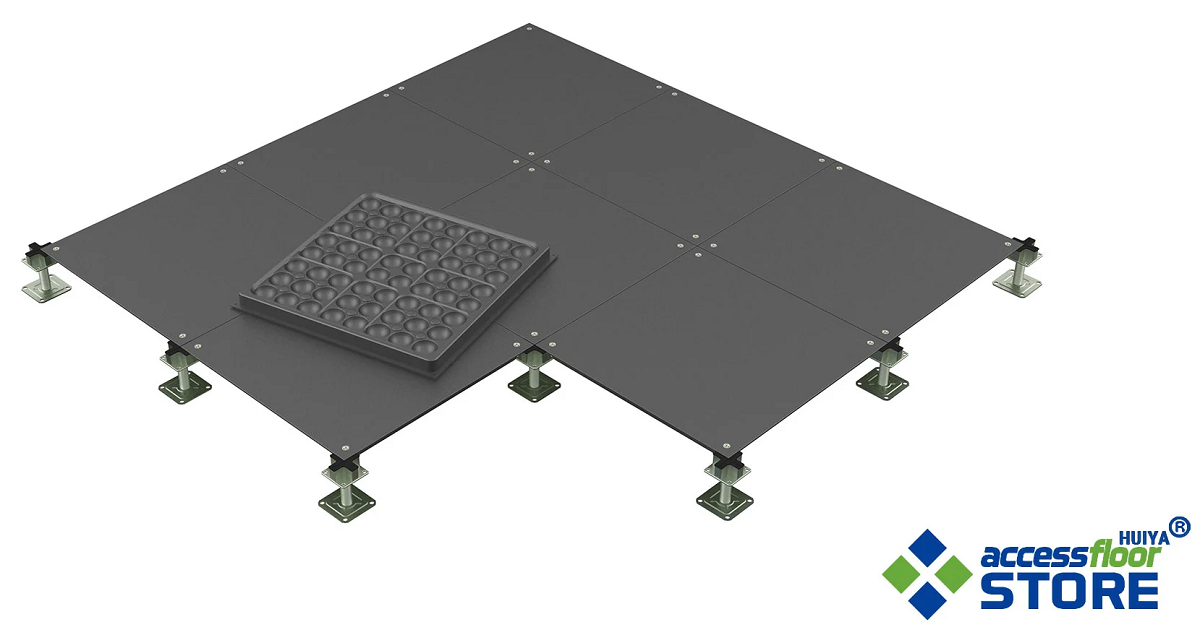 Why Should You Go 'LOCAL' for Raised Floor?
Going local means associating with local businesses that use locally-available resources - employ local workers at decent wages and committed to delivering unbeatable services to end-clients. Before setting up a footprint in other countries, HUIYA first establishes a strong brand presence and works on providing excellent services at affordable prices. By doing so, we have become more self-reliant and less dependent on imports.
What's In It For You?
1. Faster For Small Projects' Construction or Old Raised Floor Replacement
When you invest in raised floors from locally owned businesses, there's less hassle involved. You get the best recommendations directly from the manufacturer in a more personal way. In simple words, the local raised floor supplier fosters all the project requirements quickly and even caters to raised floor replacement projects.
Furthermore, a customer can know from where the raw material came from. This is often something that many people don't consider in advance i.e., from where raw materials and equipment are coming from? Local raised floor supplier gives you complete control over your material – that are more industry standards.
That's why countless small and startup companies favor locally-managed manufacturers. With a local provider, you can get the opportunity to be more feasible and ensure that the final system meets your expectations.
2. Easier To Access HUIYA Brand in Your Local Market
The local provider keeps the brand much closer to you, and you get the same-quality professional work in your hometown. HUIYA, having a strong brand recognition worldwide, lets you invest in a system that performs flawlessly for your property.
HUIYA high-end flooring regime recognizes your requirements and lends a competitive edge to your company in the long run. This fastest growing raised flooring factory in China is also the world's largest OEM raised floor manufacturer.
In terms of value and performance, HUIYA raised floor doesn't disappoint at all.
HUIYA has ISO 9001 & ISO1400 product certifications.

24*7 service

Extensive service can offer a competitive advantage

Customized Raised Floor design accepted & OEM/ODM service provided.
3. More Comparative Price Advantages Compared To European Products
The budget for procuring raised floor from the local market is compelling – for all types of the raised floor systems. One can save almost 10-30% of the cost depending on your project size and requirements.
Besides, local raised floor suppliers are still the backbone of many entrepreneurs and startup companies, less susceptible to downturns, and more likely to work harder. Local manufacturing means that important decisions are made by professionals who live in your society and understand the impact of those decisions.
In many cases, prices at local raised floor manufacturers are inexpensive and can be more willing to negotiate to meet your pricing needs. Don't you think this translates to a more convenient investment experience?
4. More Economical Accessories
Companies who prefer to source internationally end up spending more and their overall investment are way higher than expected. A local distributor, on the other hand, prefers to source locally and offer diverse, cost-effective solutions. The benefits of flexibility, greater control, and reduced supply chain cost have been a driving force for many emerging businesses.
A local raised floor company can offer extensive choices of accessories for clients. The list includes raised floor pedestal, panel lifters, grommet, electrical box (outlet box, aluminum air grille, floor skirting, installation wedges, floor ramps, floor stairs, floor fascia, and more.
Ease accessibility to accessories that can accommodate your specific project needs and future upgrade/maintenance requirements.
5. Easier Access Local Projects
Businesses who associate with a local manufacturer benefit the same way, which ultimately leads to an easier and speedy realization of projects. You can install a raised floor in your property faster and can easily meet technological or ventilation requirements.
How does HUIYA benefit local clients? The demand for innovative flooring reaches new heights and raised floor helps business organize, maintain ethical work standard, and corporate social responsibility. HUIYA from incorporation has maintained a good track record and has helped countless companies enhance residential and commercial spaces worldwide. HUIYA integrated manufacturing and distribution process provides competitive advantages in terms of durability and performance. Since our raised floor technology is extremely practical, it can create a continuous void under the floor surface, which can route all technical or mechanical systems. HUIYA's raised floor system's unique aspects are that they are durable, flame retardant, have natural environmental protection, and are available in rich colors. The products are widely used in a data center, medical facilities, call center, IT space, education sector, transportation sector, exhibition, office, and public places.
6. More Professional Raised Floor Installation
Installation of the raised floor is a complicated process and requires utmost attention & precision. A locally-managed raised floor installer can give you a precise estimate of how long the process should take and even assess any potential issues. An expert eye thoroughly ensures the installation process goes smoothly as possible.
Unfortunately, with the DIY approach, things can and often go wrong. But with professional installation, the chances of errors are minimal. HVAC professionals go through extensive training and stay updated on new equipment and trends in the industry. If you invest in HUIYA, you'll be assisted by a team of elite installers, who have more training than almost anyone else in the industry. Above and beyond, hiring a professional to install your raised floor system can also protect you from physical danger or long-term inefficiencies.
7. Better Customer Services
Good customer care services apparently result in higher satisfaction. And when it comes to the raised floor, satisfaction is a part of the investment. Raised flooring is all about creating a modular space - whatever design you may choose, it can be implemented quickly. Finding a local yet reliable brand for raised floor offers you complete flexibility on materials and coverings, even the installation & finishing will be as per your wishes and requirements.
HUIYA understands the requirement of the data center, server room, warehouse, or laboratory, and will personally make sure that the final product is as per your technical and aesthetic needs. On the contrary, HUIYA Raised Access Floors offers you a wide range – with personal advice and a comprehensive selection of floor finishes.
8. Better To Know Local Customer's Demand
Local distributors are very well versed in what customers want and the market trend. The process of finding a local distributor for a custom raised floor can get expensive. HUIYA, by hiring local professionals, bridges the communication gap and fully ensures impeccable installation.
A manufacturer can even turn over the responsibility of administering customer service duties to its distributors and would exclusively deal with the distributors to handle customer queries and quicker processing of orders, this ultimately results in higher efficiencies and lowers operating costs. Many clients want to get their system installed faster and at market-friendly prices. As promising as this sounds, it has its limitations. The job of the manufacturer is to get the best-raised floor product in the market. Thus, the idea of getting the product delivered to the consumers falls onto the shoulder of the distributor. This is exactly where a distributor plays a crucial role in handling customer inquiries and distributing equipment on time.
HUIYA – Now In Your Region Too
Easy to install, highly practical, and durable to use – HUIYA, in the world of raised floor, needs no introduction and is a professional choice for an invincible elevated system. HUIYA, in association with HUIYA, feels honored to assist you with the best and most favorable Raised Access Flooring Solutions.
Now you can get the benefits of famous Elevated Floor Systems in an array of materials, styles, sizes, finishes, and colors. The best thing about HUIYA is that it can withstand the test of time and is committed to providing excellent one-stop service.
Huiya's raised floor services cover Anti Static Raised Floor, Aluminum Raised Floors, All Steel Raised Access Floors, Ceramic False Floors, and You can buy raised floor systems as your needs for various applications.