News Tag
Products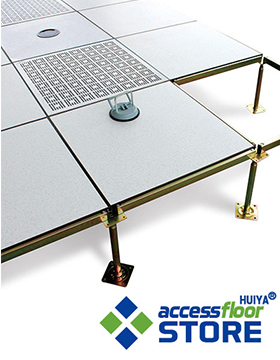 Raised Access Floor & Floor Pedestal Guide - Features, Components, Structure and More
2019/6/2 14:36:24
Raised access floor is also called dissipative electrostatic floor. The raised floor system is mainly composed of an adjustable pedestal, stringer, panels and so on. Raised floor is generally divided according to the base material and finishes material. The raised floor light in weight, waterproof, insect-proof, odorless, pollution-resistant, easy to install and clean, sound insulation effect great, various types of floor and different prices to meet customer needs.
OA Raised Flooring Pedestal Structure Characteristics & Installation Details
The OA raised access floor pedestal is used for commercial office buildings. Check out the raised access floor pedestal components and mount details as below.
Anti-vibration PVC gasket (the head plastic cover), to make the floor buckle on the pedestal for shock absorption

Die-cast aluminum head plate (crisscross keyhole aluminum head)

Tapped holes for panel screw (the four holes on the crisscross aluminum head plate, used to screw with the floor)

Spring washer

Hexagon nut: to fix the floor and pedestal

Threaded rod: the length can be customized

Tapped hole for earth connection: can be connected to the ground through a wire

Base Plate/pedestal base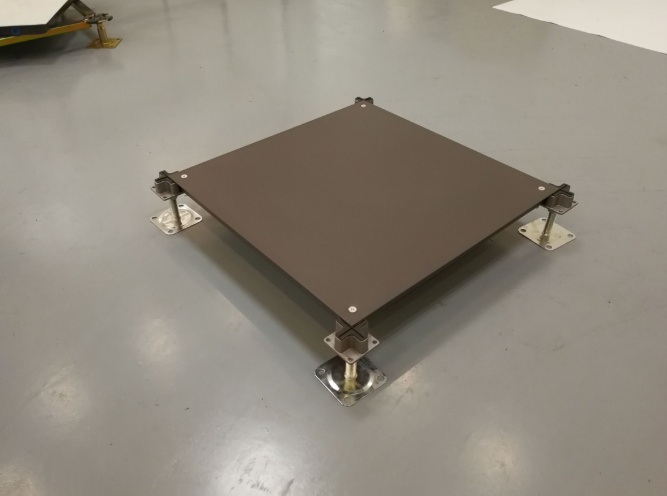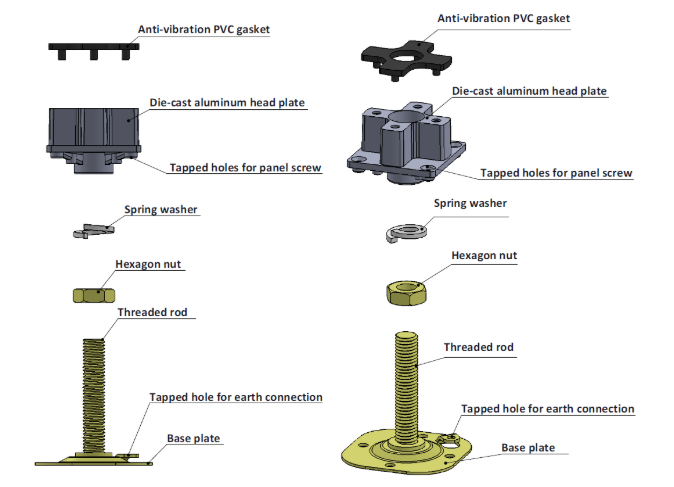 Computer Room Anti-static Raised Floor Pedestal Structure Characteristics & Installation Details
The raised floor pedestal used in the computer room is different from the OA network access floor pedestal used in the commercial office building. The head plate of the pedestal is flat pedestal with a raised floor stringer. The pattern of the head plate can be made into mould to customize the product style for customers. The following is the type of our anti-statistic pedestal.
All steel anti-static raised access floor pedestal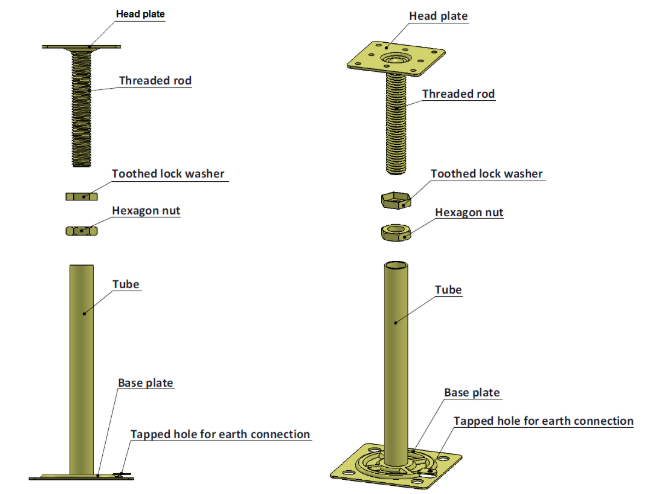 The following is the showcase of a stringer, screwed to fix the stringer and pedestal, please note that the stringer should over the pedestal and the anti-static raised floor is above the stringer.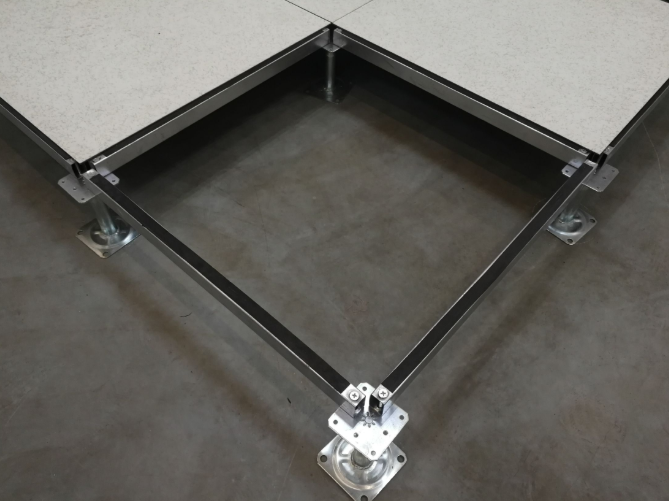 Calcium sulfate anti-static raised access floor pedestal
The head plate is circular, and the stringer structure is somewhat different from that of the all-steel anti-static floor mentioned before. Look at the stringer carefully. The stringer of the calcium sulfate anti-static access floor is laid on the round head plate, while the stringer of all-steel anti-static floor series is completely supported by the pedestal.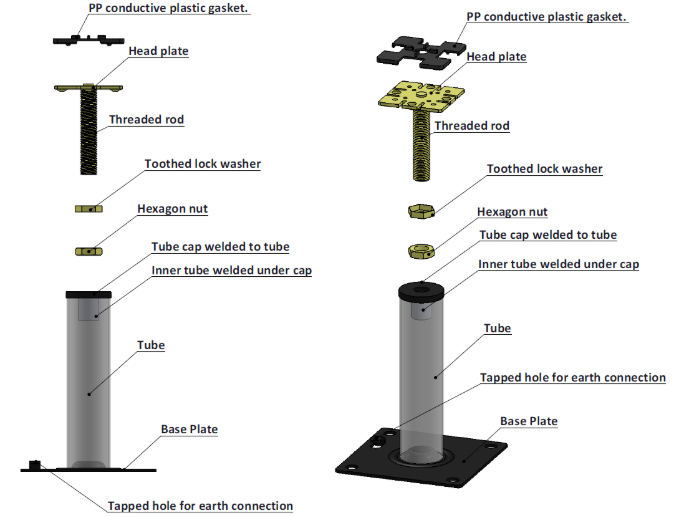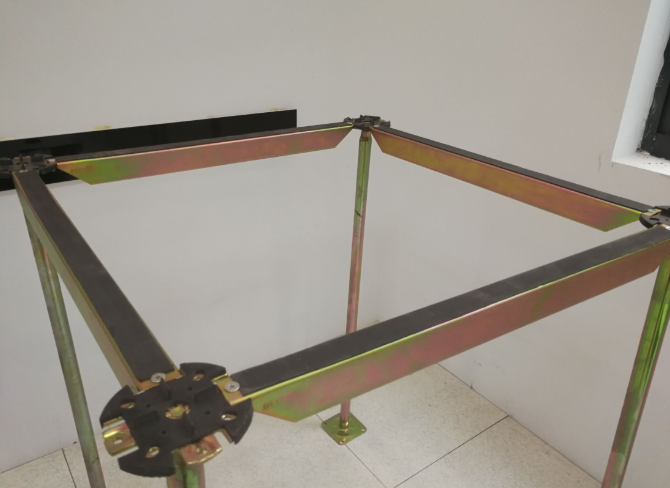 Features & Benefits of HuiYa Accessfloorstore.com Raised Floor Pedestal?
1. Multiple options for raised floor pedestal tube diameter and thickness as well as the style. We can customize lots of pedestal of different specifications, including but not limited to the regular version.
2. The raised floor pedestal can be installed and adjusted conveniently with the help of stringer and floor pedestal bracing, lower space can be used for air conditioning and ventilation, and bottom ventilation can also be adjusted with the ventilation adjustment plate.
3. Strict quality control. Our access floor pedestal materials are from the quality assurance supplier, advanced production equipment and professional development team, make you without worries behind.